Frizzlife WB99 Countertop Reverse Osmosis System, Alkaline RO Water Filter with Portable Water Pitcher, NSF/ANSI 58 Certified Elements, TDS & Filter Life Monitoring, No Installation USA Tech Support
---
---
Frizzlife WB99 Countertop Reverse Osmosis System, Alkaline RO Water Filter with Portable Water Pitcher, NSF/ANSI 58 Certified Elements, TDS & Filter Life Monitoring, No Installation USA Tech Support - US In stock / WB99(RO+UV) is backordered and will ship as soon as it is back in stock.
Shipping Charges:

USA, Canada, UK, France & Germany

Free shipping for order over $25.

$5 for order less than $25.

Other European countries & other countries

Contact us by email to get the shipping details and invoice.

Bulk order

For bulk order over $1000, the shipping charge depends on some factors (i.e., countries, products weight), please email us for more details.

Shipping Time:

USA, Canada, UK, France, Germany

It will take 3-7 Business Days by UPS, USPS, DHL, FedEx or similar courier.

Note: Delivery time does not include weekends, national or international holidays, or handling times.
Payment methods
Your payment information is processed securely. We do not store credit card details nor have access to your credit card information.
【0.0001 Micron RO Filtration & Alkaline pH+】By combining carbon fiber, 100 Gallon RO membrane and alkaline particles, Frizzlife WB99-C countertop reverse osmosis system can effectively reduce 1000+ harmful contaminants (99.99%), including Chlorine, Fluoride, Lead & other Heavy Metals, Arsenic, Chloramine, TDS, limescale, VOCs and much more. The SC90 alkaline filter addresses the side-effect of RO water and raises the PH value, which is beneficial to long-term health.

【4 Dispensing Volume Modes & Large Water Tank】Frizzlife countertop RO system features with multiple dispensing volumes: 4oz, 8oz, 17oz and continuous dispensing. Simply tap the screen to select the desired volume. Please kindly note that the dispensing volume is subject to±10% deviation. The large filling tank (152 oz/4.5 L) can perfectly meet the water demand for a family or an office. The tank is also removable, thus makes it effortless for water refilling and cleaning.

【Real-Time TDS, Filter Life & Water Quality Monitoring】The smart touch panel is sensitive and easy to operate. It will show the latest TDS result after each water production. Besides, this RO water filter system will keep monitoring the filter life and remind you to change filter cartridges in advance. Furthermore, if the filtered water in the pitcher has been over 24 hours, the water quality indicator will turn red. The user-friendly design allows you to forget the guesswork.

【Portable Pitcher With RO Water】The filtered water pitcher is portable and can be taken anywhere in need. There is no need to go to the system each time to fetch the water, just place the pitcher within reach. You can also put the pitcher into the refrigerator to get ice water! Thanks to its compact size (9"L x 16.5"W x 14.8"H), it can be placed in multiple scenarios, such as living room, office, bedroom, RV and more. The elegant design can also be harmoniously incorporated into the home decor.

【Plug and Use & Easy Replacement】 WB99-C reverse osmosis water filter system is built for convenience, it is fully assembled and requires ZERO installation. Just plug it in, fill up the water tank, then the system will automatically start to produce RO water right away! The twist-in design makes the filter replacement a breeze and no tools required. The system comes with full set of filter cartridges. For replacement filters, please search " Frizzlife FCR100+ Filter" and " Frizzlife SC90 Filter".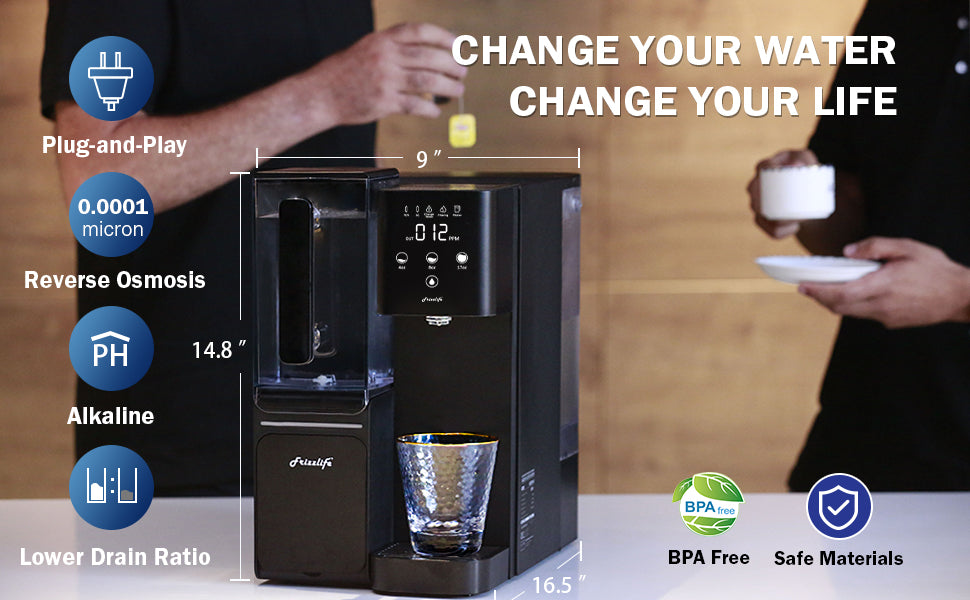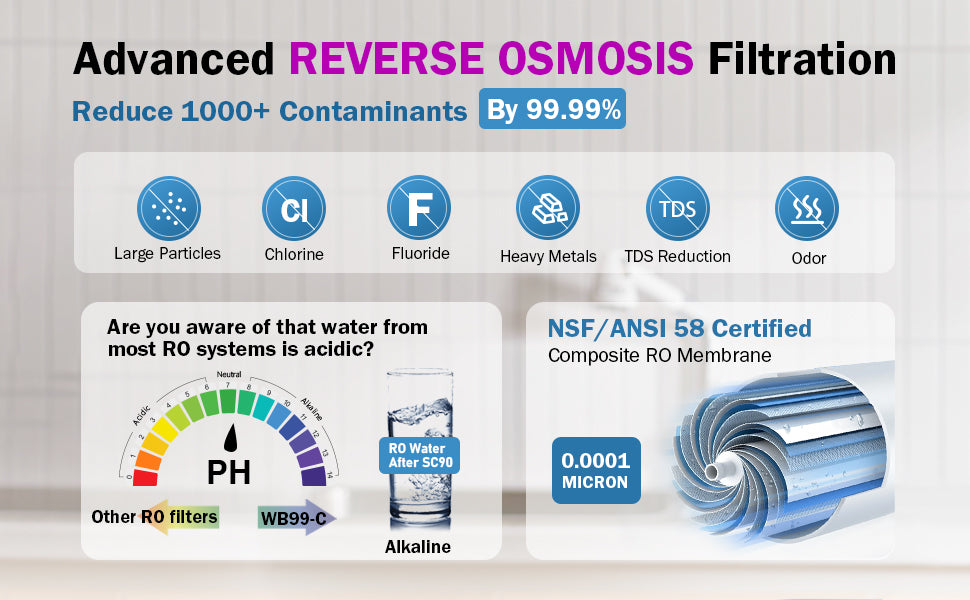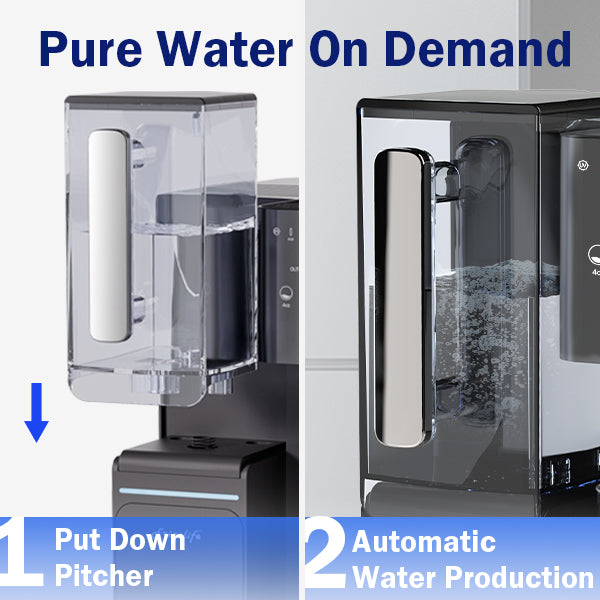 Automatic Water Production
By lifting up the pitcher and putting it down again, this countertop water filter will automatically start to produce water. Besides, it will start to produce water after 60 seconds of continuous water dispensing. This smart function ensures there is always sufficient filtered water in the pitcher for the next dispensing!
No Water Spills & Secured Pouring
The pure water pitcher can be taken out and put it anywhere in need. You can also put the pitcher in the fridge to get the chilled water. What's more important, the top lid will never fall down when pouring water from the pitcher. The easy to pour spout and easy to fill lid ensure mess-free pouring experience.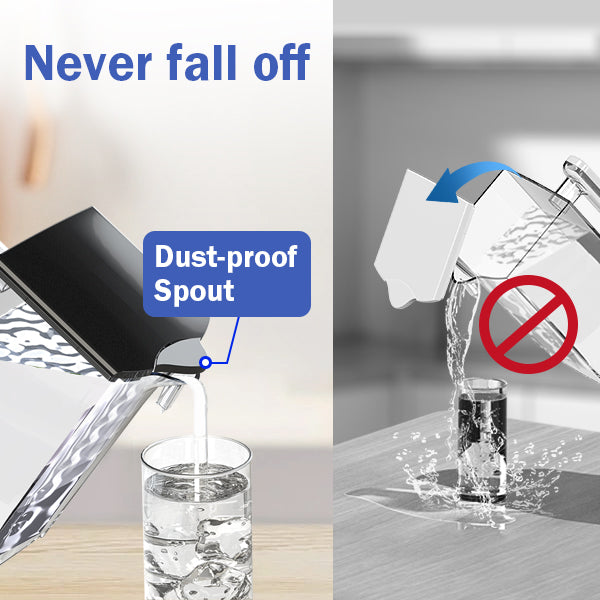 24 Hours Water Quality Indicator
If the filtered water in the pitcher has been over 24 hours, the built-in water quality indicator will turn red. Frizzlife would recommend to discard the water in the pitcher in this case, let this countertop water dispenser produce the fresh RO water for you!
3.5:1 Pure to Drain
WB99 countertop RO water filtration system adopts advanced water saving technology, one 1 cup of waste water will be drained for 3.5 cups of pure RO water. Therefore, it can save up to 1400% of water than other RO systems! Frizzlife is always committed to delivering efficient and effective water solution for you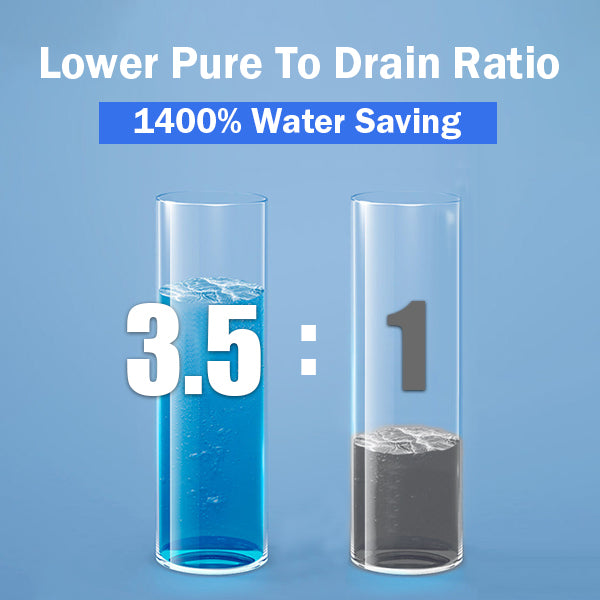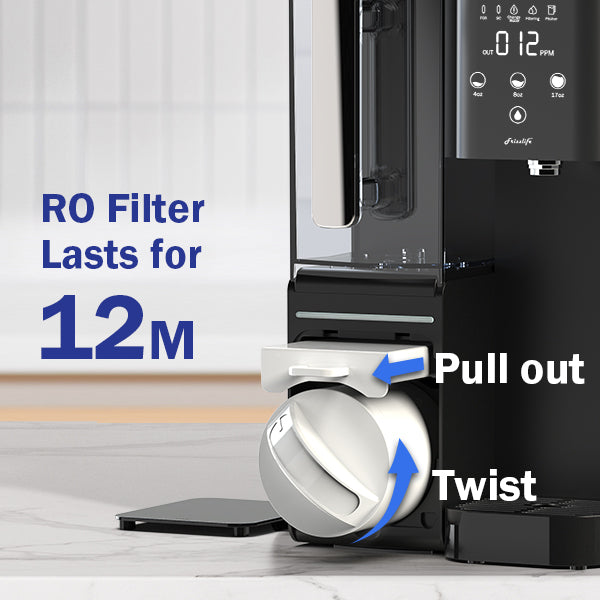 Quick Change & Longer Filter Lifespan
The FCR RO membrane filter only require a simple twist to change. To replace SC post alkaline carbon filter, all you need is to pull out the old filter and push in the new one. No extra tools required!The RO membrane can last for 12 months, please kindly note that the actual filter life also depends on feed water quality and daily water usage.
Large Tank & Easy to Fill and Clean
Thanks to the ergonomic design, the water tank is removable and is easy to fill with water, which also makes routine cleaning work more convenient. The water tank features with high capacity, it can hold up to 152oz/4.5L water. This countertop RO system is ideal choice for family and office.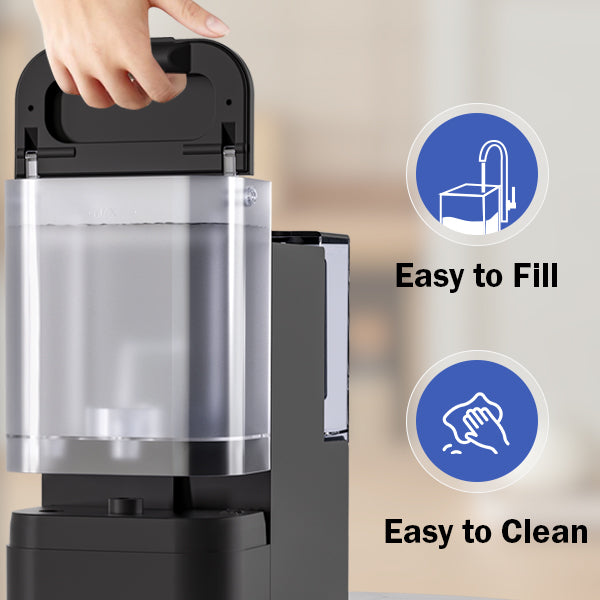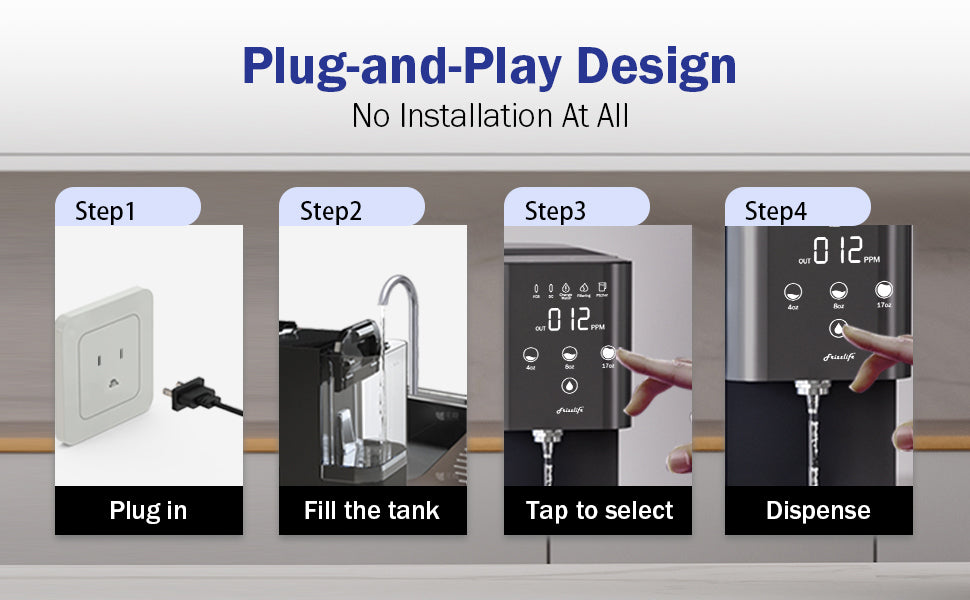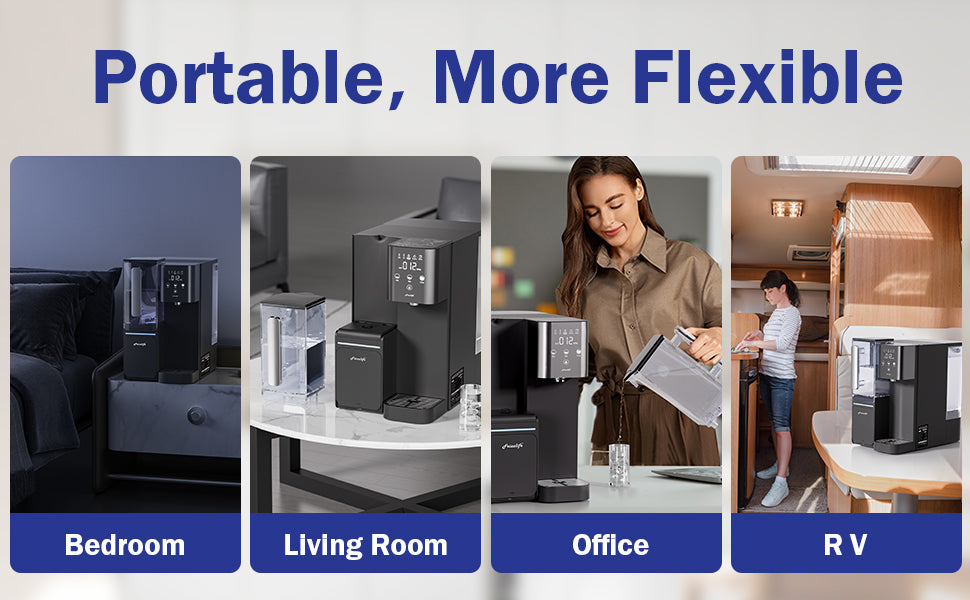 Model
WB99/WB99-C
Dimension(L*W*H)
9X16.5X14.8 inches
Daily Production Rate
100GPD
Feed Water Requirement
Muncipal Tap Water
Rated Voltage
110V
Heating Power
55W
Rated Frequency
60Hz
Feed Water Temperature
39°F-100°F
Replacement Filter Models

Stage1: FCR100+

Stage2: SC90/CB90

Tank Capacity

Feed water tank: 4.5L

Pure water pitcher: 1.4L