Frizzlife 100GPD Reverse Osmosis Water System With Alkaline & Remineralization, RO-K3-A
---
---
Frizzlife 100GPD Reverse Osmosis Water System With Alkaline & Remineralization, RO-K3-A is backordered and will ship as soon as it is back in stock.
Shipping Charges:

USA, Canada, UK, France & Germany

Free shipping for order over $25.

$5 for order less than $25.

Other European countries & other countries

Contact us by email to get the shipping details and invoice.

Bulk order

For bulk order over $1000, the shipping charge depends on some factors (i.e., countries, products weight), please email us for more details.

Shipping Time:

USA, Canada, UK, France, Germany

It will take 3-7 Business Days by UPS, USPS, DHL, FedEx or similar courier.

Note: Delivery time does not include weekends, national or international holidays, or handling times.
Payment methods
Your payment information is processed securely. We do not store credit card details nor have access to your credit card information.
Multi-Stage Superb Filtration: RO-K3-A under sink water filter uses RO membrane with highest filtration precision at 0.0001 micron, which effectively reduce more than 1000+ kinds of harmful contaminants (99.99%) from water including Lead, Chlorine, Fluoride, Heavy metals, Chloramine, VOCs, TDS, Limescale, Arsenic and more. Also includes a 2-in-1 composite pre-filter, and a post carbon filter with alkaline & remineralization function, which further reduces bad taste, odor & polishes the flavor.
Alkaline Remineralization & Small Size: The 3rd stage post filter (TD-9) balances the alkalinity of RO water and adjusts the PH to more than 7.5, and restores essential minerals to your drinking water at the same time. Featuring with compact size with neat design, it is remarkably smaller than other traditional RO systems with ordinary size, which helps to save storage space under kitchen cabinet.
Low Drain Ratio & Longer Filter Life: Adopting water-saving technology, RO-K3-A features with 1:1 super low drain ratio @70psi. For each cup of pure RO water, only 1 cup of waste water will be produced (Most traditional RO systems produce 3 cups). The 1st stage uses pleated composite filter, it has 3 times longer lifespan and better removing capability, thus prolongs the lifespan of RO membrane and cut down replacement expenses.
DIY Install & Super Thick Housing: The RO filtration system comes with everything you need for installation. Also comes with 3/8" to 1/2" converter set, thus it is compatible with standard US kitchens. Adopting twist design, all filter cartridges can be easily changed with the wrench provided. By setting next filter replacement date on the lid, you can forget the guesswork. Filter housing is thickened, which has passed pressure resistance test, thus make sure it is sturdy enough for heavy duty and long-term usage.
Fast Water Flow & Multi-Usage: Equipped with a pressure tank, water flow can reach 0.8GPM, you can instantly fill up a 330ml cup of water in 7 seconds! The capacity of RO-K3-A is 100 gallons per day. It doubles the output of traditional RO systems! By using Frizzlife IMC-1 ice maker kit, reverse osmosis water filter can simultaneously serve both the kitchen sink and refrigerator.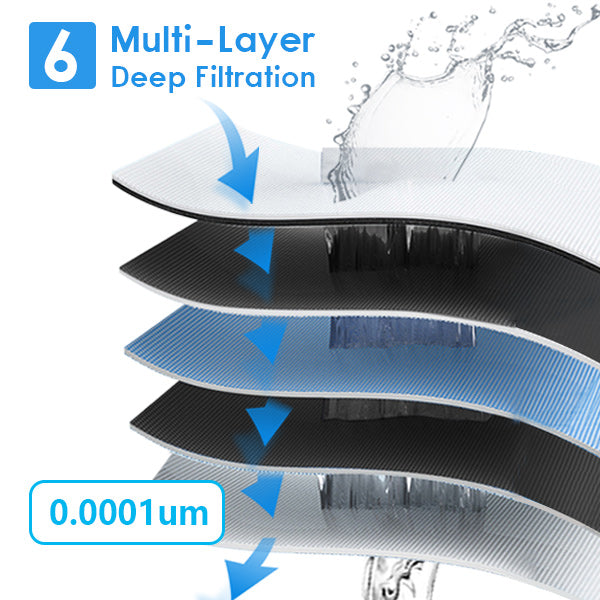 Superb Filtration Performance
RO-K3-A under sink water filter system utilizes 7 layers of high grade filtration elements, thus guarantees each drop of drinking water has been filtered thoroughly and effectively.
RO water will pass through the post filter before going to your cup, which balances the PH to alkaline level and add back essential minerals.
Alkaline & Remineralization
Traditional RO systems not only remove essential minerals from water together with contaminant, but also produce slightly acidic RO water. The last stage (TD-9) of RO-K3-A RO system adjusts PH level to more than 7.5, and also restores health-benefiting minerals to RO water.
It is one step beyond pure water only towards ultimate health in long term.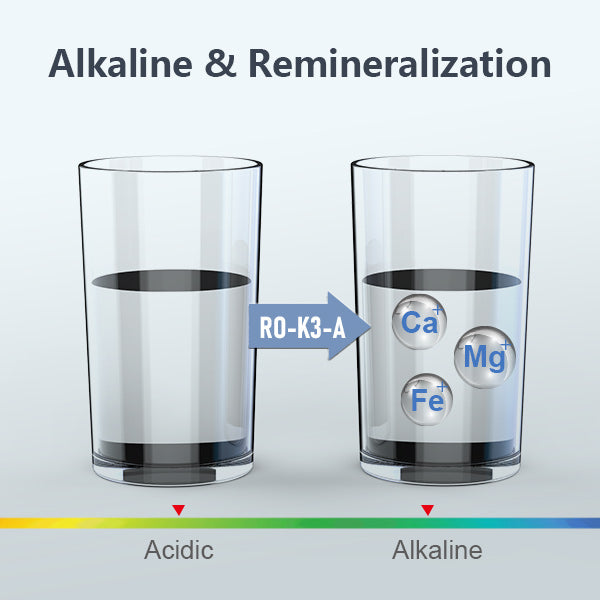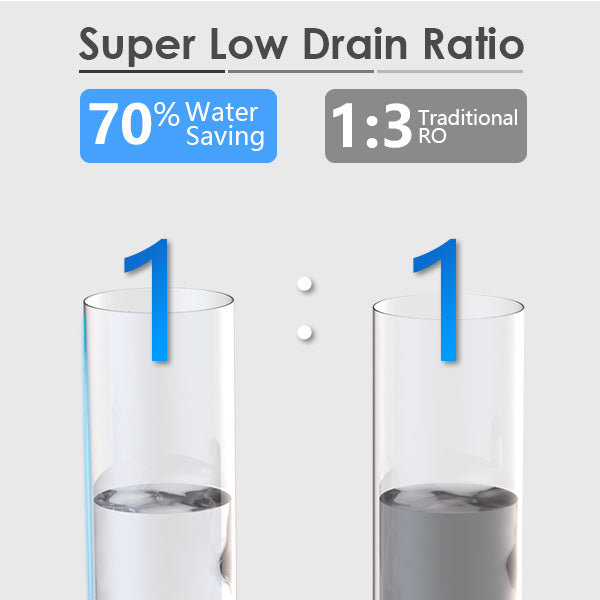 Lower Drain Ratio
Thanks to advanced water-saving technology, RO-K3-A only generates 1 cup of waste water for each cup of RO water, which saves you at least 70% water!
Makes your water bill much more affordable.
Reinforced Construction
RO-K3 under counter water filtration system thickens the filter housing, thus prevent any crack or leaking issue. The reinforced construction gives you peace of mind even after long-term usage.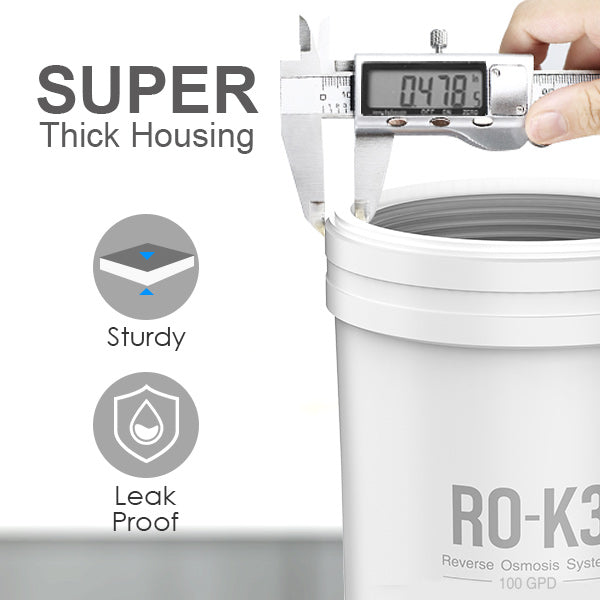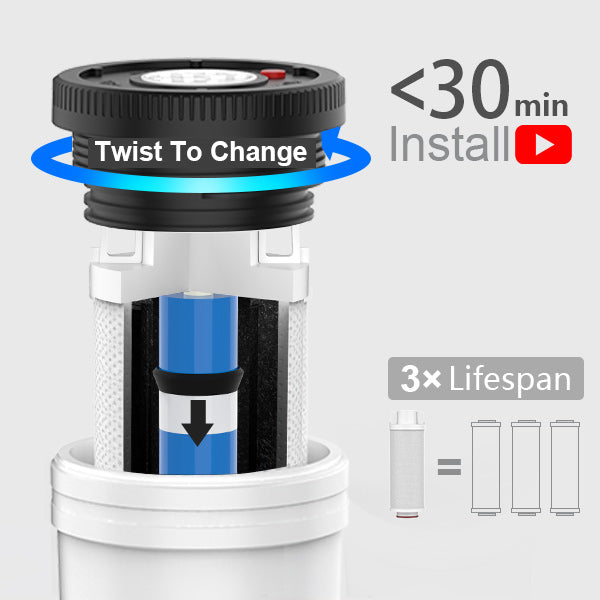 Easy Install & 3X Service Life
Following the thorough manual and online tutorial video, the filter system can be completely installed by yourself in a few minutes. No plumber required. 
The twist-in design makes the filter replacement a breeze. Just use the wrench provided to finish the replacement work effortlessly. Please press the red button on the lid to release the air pressure inside before starting to use.
0.8GPM Fast Flow & Dedicated Faucet
RO-K3-A under sink water purifier system is capable of producing 100 gallons RO water per day, which is sufficiently to serve the daily water needs of family.
Equipped with a pressure tank, the water flow @0.8GPM is fast and stable. You can always get a 330ml cup of fresh RO water in 7 secs!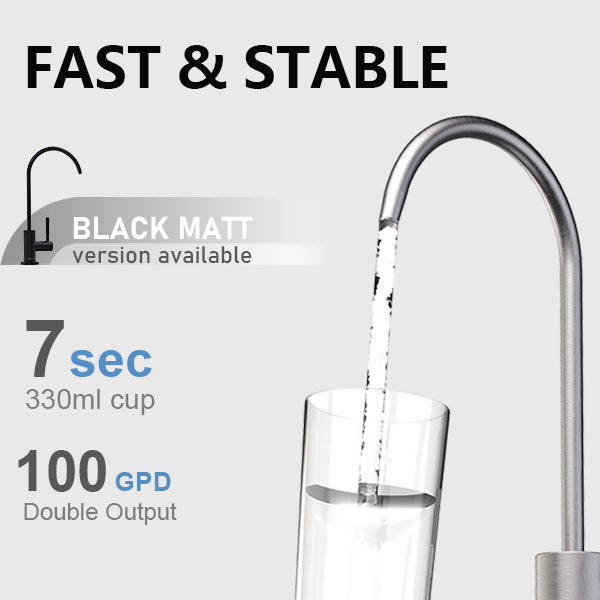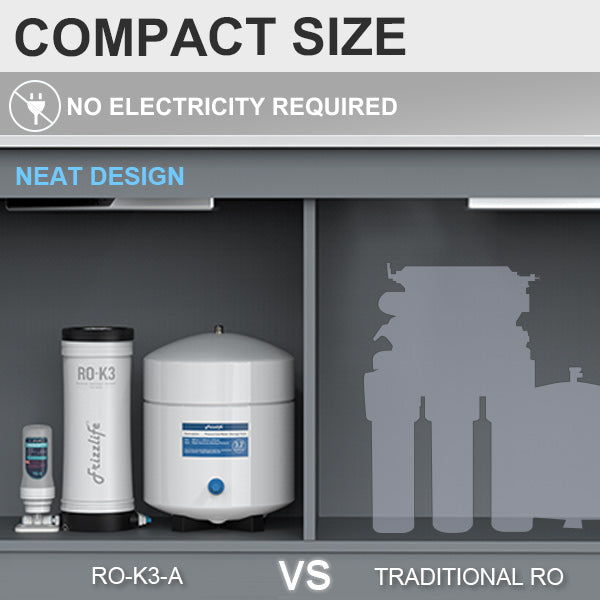 Neat Design & No Electricity Required
Adopting neat design, the size of RO-K3 water filtration is remarkably smaller. The small footprint ensures the system can perfectly suit with most kitchen under sink and save more storage space for you.
RO-K3 under sink RO filtration does NOT require electricity to work. Besides cutting down your electricity bills, we are also contributing to energy saving together!
Fresh Water For Multiple Use
The ultra pure RO water coming out from RO-K3 under sink RO system can also go to your refrigerator and ice maker!
IMC-1 Ice Maker Kit can help you achieve this multi-usage installation.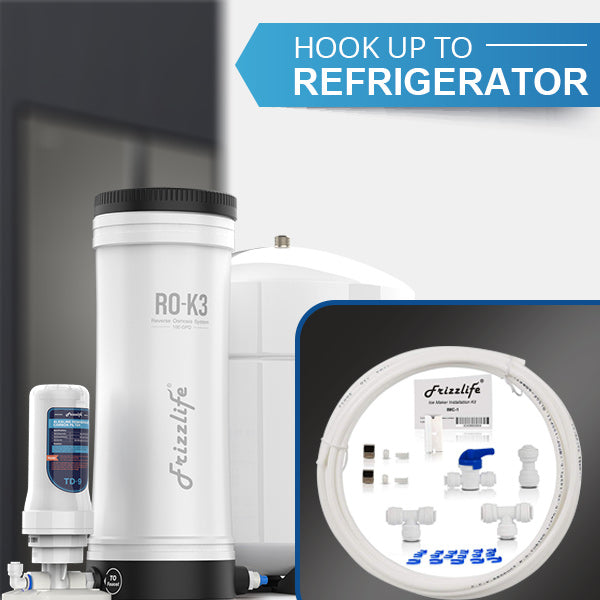 Q: Why there are many white bubbles in the water?
A: Normally for the first time use of the RO system, the water seems to have white bubbles in it,
which is normal and totally drinkable. It is because when the pump is pressurizing the water, it
will pressurize the air at the same time. It will make the air molecules smaller, thus the solubility
further increases. The air can't be released at that time because of the pressure in the RO system.
However, when you turn on the tap to get a cup of water, the pressure of air is released. So you
will see a huge number of bubbles in the water. It looks cloudy and white, but they are just
bubbles. After you put the water still for a while, all bubbles will be gone, the water is totally
good for drinking.
Q: Why TDS result is not that low?
A: It is because the TD-9 filter, the post filter, adds the minerals to the water. Normally the TD-9
will increase the TDS by 10-70 ppm, and at that time the water is very good, the PH level will be
more than 9.
Q: Why TDS is higher at the beginning, but back to normal range after about one minute?
A: Osmosis is a natural phenomenon happens in all RO system, no matter if you have a conventional
RO system or tankless RO system. When the RO system starts to work, pressure from the pump
overcomes natural osmotic pressure, forcing feed water through the RO membrane that removes
the impurities. When the RO system stops working, the pump stops offering pressure as well. At
that time, because of different concentrations, a small fraction of ions will enter into pure water
and cause TDS to rise by a small amount. However, even if the TDS reading is a little high at the
beginning, the quality water is still unbeatable by any other filtration methods including carbon,
KDF, ceramic, UF, UV, etc.. The water is totally good to drink and you don't have to wait for about
1 minute to get the water, since the whole system will not release any harmful substances to the
water. The TDS removing rate for RO-K3 is about 94-95%, if your incoming TDS is high, the outlet
TDS will be high too.
Q: If I don't want to use the TD-9, how should I disconnect it?
A: Simply disconnect the TD-9 from tRO-K3, then your water will not be alkalined or remineralizaed.
Q: My granite is thicker than 1.5 inch and the faucet stem is not long enough, what should I do?
A: Please feel free to contact us at support@frizzlife.com to claim for a longer thread stem.
Model No.
RO-K3-A
Filter Cartridge Inside
K3-F-800, K3-G-100, TD-9
RO-K3 Dimensions
5.2*5.2*14.9 inches
Tank Dimensions
11*11*14.7 inches
TD-9 Dimensions
2.1*2.1*7.9 inches
Flow Rate

100 gallons(@60psi of

inlet pressure ,@77ºF)

Working Pressure
Min.25psi Max.85psi
Operating Temperature
Min.39ºF, Max 100ºF