FRIZZLIFE TF900 Instant Hot Water Dispenser Filter, 5 Temperatures & 3 Volume Settings, High Temp Safety Lock, Zero Installation, UL Standard Tested, 1 Filter Included
---
---
FRIZZLIFE TF900 Instant Hot Water Dispenser Filter, 5 Temperatures & 3 Volume Settings, High Temp Safety Lock, Zero Installation, UL Standard Tested, 1 Filter Included is backordered and will ship as soon as it is back in stock.
Shipping Charges:

USA, Canada, UK, France & Germany

Free shipping for order over $25.

$5 for order less than $25.

Other European countries & other countries

Contact us by email to get the shipping details and invoice.

Bulk order

For bulk order over $1000, the shipping charge depends on some factors (i.e., countries, products weight), please email us for more details.

Shipping Time:

USA, Canada, UK, France, Germany

It will take 3-7 Business Days by UPS, USPS, DHL, FedEx or similar courier.

Note: Delivery time does not include weekends, national or international holidays, or handling times.
Payment methods
Your payment information is processed securely. We do not store credit card details nor have access to your credit card information.
Premium Filtration & Adjustable Filtration Speed: Consisting of multi-layer filtration materials, such as Japan-made Activated Carbon (ACF), top class Ion-Exchange Resin, Micro Nets etc, TF900 countertop water filter dispenser is tested to effectively reduces CHLORINE, FLUORIDE, LEAD, HEAVY METALS, BAD TASTE & ODOR, Sediment, and other harmful contaminants from water, while retaining essential minerals. Water filtration speed can be adjusted by turning the dial on the cartridge bottom.
Instant Heating in 3 secs: Frizzlife TF900 hot water dispenser is capable of producing Heated & Filtered water in 3 secs, no need to wait. It actually combines the functions of water filter pitcher and water kettle in one compact system. Besides, instant heating technology ensures that only individual serve of water volume will be heated up each time. No repeat heating keeps your drinking water clean and fresh!
5 Temp & 3 Volumes Settings: TF900 countertop hot water dispenser filter system has 5 kinds of temperatures adjustable (Room temp, 110℉, 150℉, 185℉, 212℉), thus allows you to brew a variety of drinks that deliver best tastes, including but not limited to hot tea, coffee, baby formula, etc.. Three volume settings (5oz, 10oz, 17oz) can better serve different cup sizes.
100% Safety & UL Tested: TF900 instant hot water dispenser is made of food grade materials and passes UL test. The built-in high temp safety lock always starts up in standby status. You need to long press to unlock the system first before dispensing water. Therefore, it protects elders and kids from any burning or scalding risks. Water shortage alarm also protect the system from dry burning.
Compact Design & Plug and use: TF900 instant water boiler is fully assembled, no drilling or installing required. All you need is to plug it in to use. Adopting compact and neat design, the system can be move anywhere in need with power supply available, such as office, bedroom, RV, kitchen and much more. Hot drinking water is always on demand with a few simple taps on the smart panel.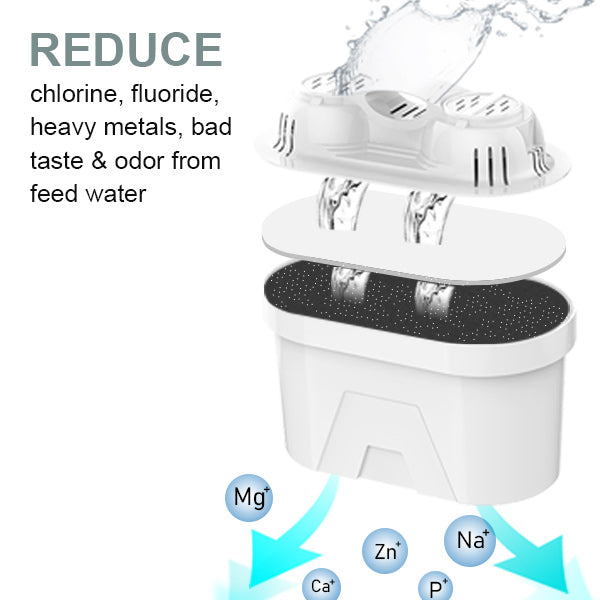 Get instant access to warm/hot filtered water
Effectively reduce chlorine, fluoride, heavy metals, bad taste & odor from feed water
Beneficial minerals such as Calcium and Magnesium are still retained in the water after filtration.
Instant Heating & No repeat Heating
There is no need to wait for 5-8 minutes to get a cup of hot tea or espresso coffee. Boiling water can always be collected from TF900 in 3 secs!
Besides, unlike most water boilers that keep reheating entire pot of water, TF900 only heats up individual serving, thus guarantees the fresh flavor of drinking water.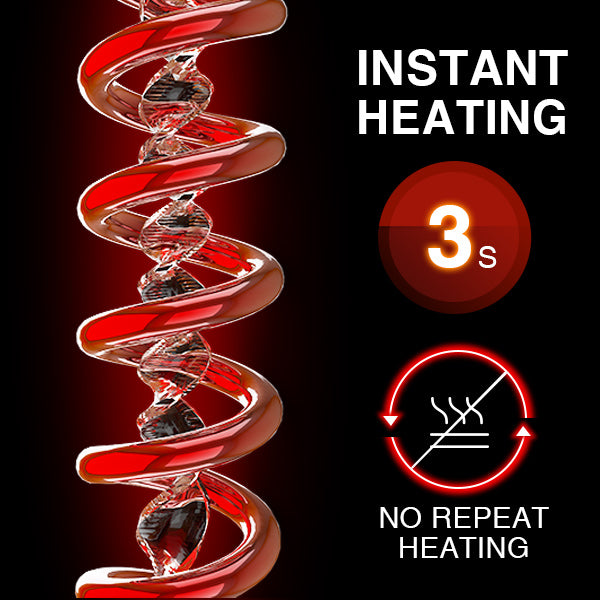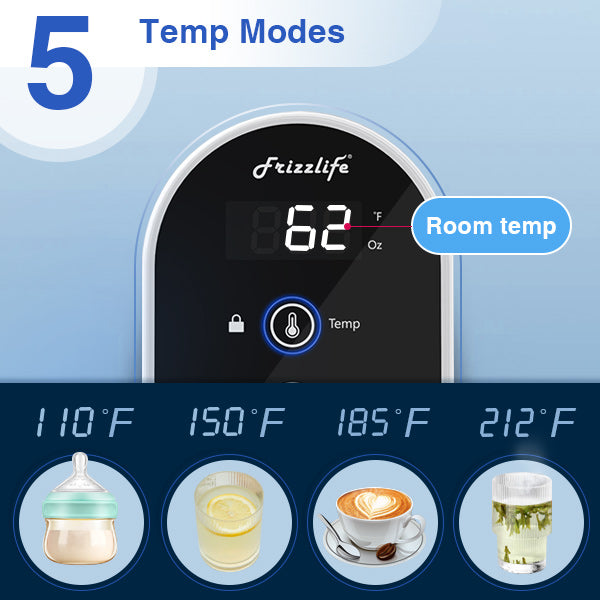 5 Temperatures Modes
Features with 5 temp modes: Room temp, 110℉, 150℉, 185℉, 212℉. Multiple temp modes allow to customize your own unique drinking experience.
Tip: The system will automatically detect the temp of feed water in the tank, which is shown as room temp on the panel.
3 Dispensing Volumes
There are 3 dispensing volumes settings available to fit different cup sizes: 5oz, 10oz, 17oz.
Besides, the system has memory function. It will memorize the latest temperature and volume settings.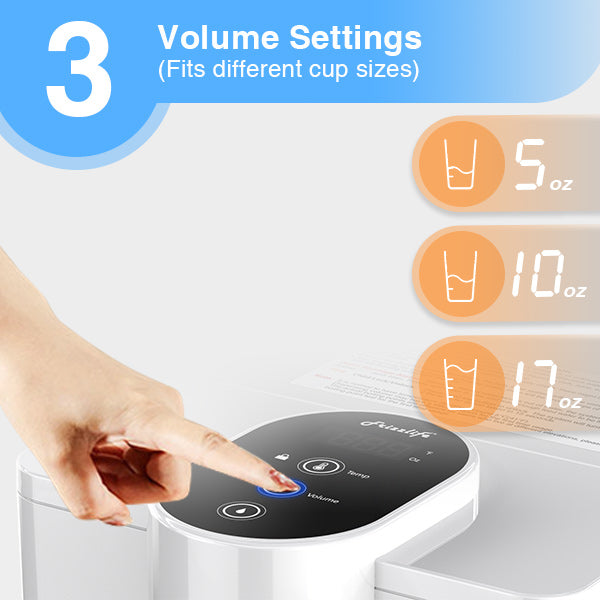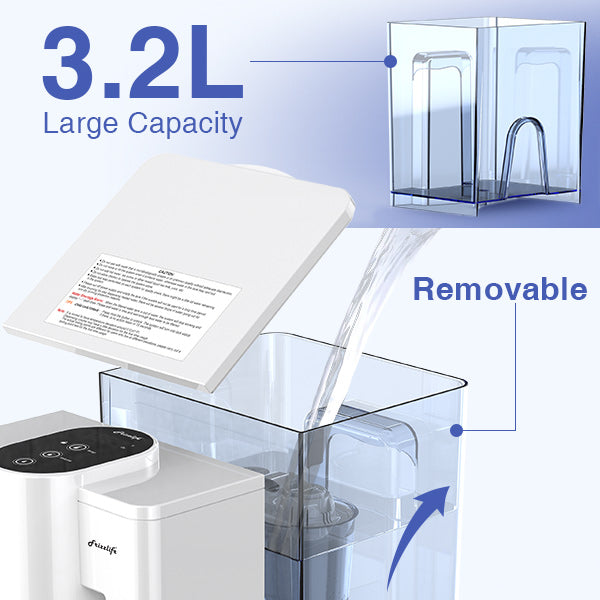 Built For Convenience
3.2 L large capacity can meet your daily water needs, thus requires less refill work. The water tank is removable, which makes the maintenance and routine cleaning work effortless.
Plug in, Get ready to use
The countertop hot water dispenser filtration system is fully-assembled, thus require no installing or drilling work.
All you need is to plug it in and then get ready to use! It is an ideal choice for people who live in apartment or rental houses.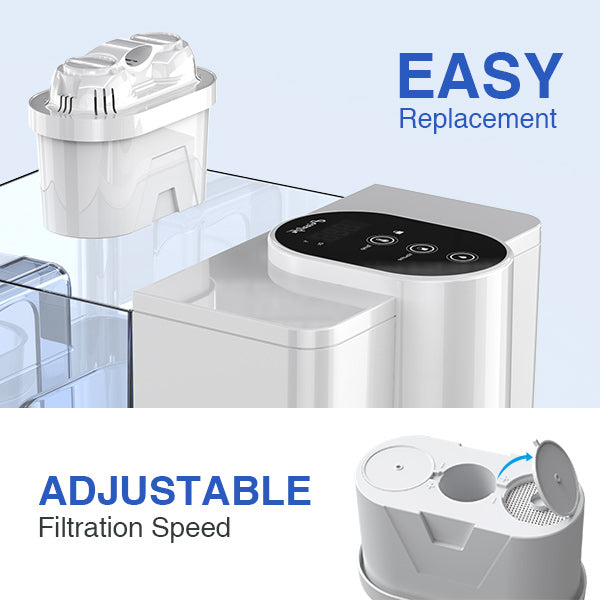 Adjustable Filtration Speed and Easy Replacement
You can regulate the filtration speed by simply turning the dial of the regulator on the cartridge bottom. Turn the dial from "+" to "-" to slower the filtration rate so that the water is filtered more thoroughly and vice versa. Remove the caps of restrictor completely for the fastest filtration.
100% Safety - No Burning Risks
When there is no action taken in 15 secs, the system will automatically start up high temp safety lock, thus cut down the risks of burning. Besides, the system also has anti-dry burning protection, several drops of water will flow out after stop dispensing heated water, which can protect and prolong the service life of water system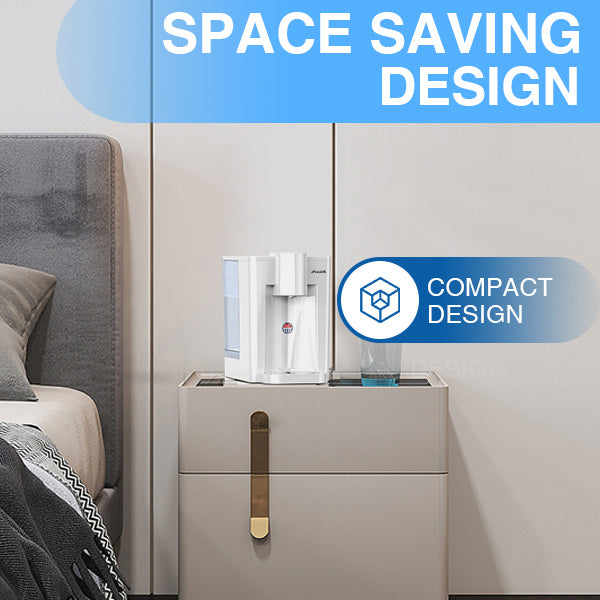 Portable, More Flexible
Thanks to its compact and space-saving design, TF900 is portable and can be carry anywhere in need with power supply available, from your bedroom to RV. Heated and Filtered drinking water is always on demand in a snap.
Q: How does the TF900 water filter affect TDS/PPM in water?
A: TDS is not a professional way to test the water quality, TDS means total dissolved solids. For example, if you put very little salt(NaCl) into the water and test the TDS, you will find the result is dramatically high. The same thing, if your water is full of minerals, the TDS is very high too.
The TF900 doesn't remove any of the minerals from water, it only stops heavy metals such as Lead, Mercury, Cadmium, and over 70-80 VOCs, and it removes greatly the chlorine from water. Therefore, it is the reason why the TDS you get is not that lower as you expect.
TDS meter testing method is widely used in reverse osmosis systems since the RO filter system also removes minerals from water. If a RO membrane doesn't have a good performance, the TDS will be relatively high. And if TDS is getting much higher, means it's time to change the RO membrane.
So please do not use TDS to test any water except Reverse Osmosis System, because the result is meaningless.
Q: How often should the filter cartridges of TF900 be replaced?
A: About the service life of the filter cartridge for TF900, we would like to recommend you to change filter cartridge every 60 days. Please notice the service life depends on your water quality and daily usage. All the specification data of the flow capacity that is listed on the sticker is based on actual tests from the laboratory and its provided water.
Q: Why water filter can not be used on well water?
A: This filter should be used in conjunction with municipally treated drinking water or water that has been properly disinfected before use. The water filter cartridge is manufactured with 0.5micron carbon (top rate) that will get easily clogged up by any type of dirt or settlement from a well.
Q: How can I adjust the filtration speed?
A: You can adjust the filtration speed by switching the dial on the filter cartridge bottom. The filtration speed is fastest when you remove two caps from the cartridge bottom. Please find " filtration speed adjustment" section in the user's manual for more details.
Q: How can I stop dispensing water?
A: You can touch ANY button on the interface to stop dispensing.
If you have any further questions, please feel free to contact us at support@frizzlife.com
| | | | |
| --- | --- | --- | --- |
| Model No. | TF900 | Filter Cartridge Inside | FPT01 |
| Product Dimensions | 7 x 9.5 x 10.3 inches | Item Weight | 5.29 lb |
| Ambient Temperature | 39ºF - 104ºF | Rated Voltage | 110V |
| Frenquency | 50Hz | Heating Power | 1500W |
| Maximum Capacity | 3.2L | | |