【Pre Order - ETA on Dec 15】Frizzlife TW10 Under Sink Water Filter System, NSF/ANSI 53&42 Certified Elements
---
---
【Pre Order - ETA on Dec 15】Frizzlife TW10 Under Sink Water Filter System, NSF/ANSI 53&42 Certified Elements is backordered and will ship as soon as it is back in stock.
Shipping Charges:

USA, Canada, UK, France & Germany

Free shipping for order over $25.

$5 for order less than $25.

Other European countries & other countries

Contact us by email to get the shipping details and invoice.

Bulk order

For bulk order over $1000, the shipping charge depends on some factors (i.e., countries, products weight), please email us for more details.

Shipping Time:

USA, Canada, UK, France, Germany

It will take 3-7 Business Days by UPS, USPS, DHL, FedEx or similar courier.

Note: Delivery time does not include weekends, national or international holidays, or handling times.
Payment methods
Your payment information is processed securely. We do not store credit card details nor have access to your credit card information.
【6-Layer Filtration】The 1st stage-pp layer of the under sink water filter removes large particles such as sediments, dirt, and rust from the water. The 2nd stage and 3rd stage (0.5-micron) made from top-grade activated coconut shell carbon block blended with chloramine removal catalytic ingredients, ion-exchange material, and DFA(De-Fluorine Agent) can effectively reduce Chlorine, Chloramine, Lead, Fluoride, Heavy Metals, VOCs, bad taste & odor and other harmful contaminants from water.
【3 Min Install & Sturdy Construction】Compatible with standard US kitchen sink (Both 3/8" NPT and 1/2"). The system comes with a 3/8" inlet braided hose, and can be directly connected to the existing faucet hose. Two extra outlet braided hoses are included in case of the need for the possible longer distance. Unlike other brands that use cheap and fragile plastic fittings, Frizzlife water filtration utilizes durable lead-free brass fittings. No more cracking or leaking nightmares!
【Green Choice and Easy Replacement】Different from other brands that replaces the whole plastic housing, the Frizzlife water filtration system only requires to change the inner core filters. It remarkably cuts down the plastic waste and lowers the future replacement costs. With the Auto Shut-off design, the replacement only requires a simple twist without cutting off the water supply. No waste water produced. Search "SED10R", "CP10R" and "CB10R" for the replacement filters.
【Fast Water Flow & Multi-Usage】The flow rate of TW10 under counter water filter system can reach >2.2 gallons per minute@60psi. The undersink water filtration can be installed in kitchen, office, bathroom, RV, and much more. No drilling hole is needed for an extra faucet, thus an ideal choice for a rental apartment. With the IMC-2 ice maker kit (B07RBMLR26), it can simultaneously deliver purified water to kitchen sink and refrigerator/ice-maker. Get inexhaustible crispy and crystal ice cubes!
【Mineral Keeping & 24/7 US Support】The TW10 under sink water filter system does not remove any healthy minerals including potassium and calcium from water but only removes harmful substances, providing you with healthy, fresh and much greater tasting water. It is guaranteed for 18 months at maximum for all quality-related issues. With the dedicated 24/7 US customer service, your satisfaction is always our top concern. Dimension of the water filter: 4.7*15.7*14.6 inches.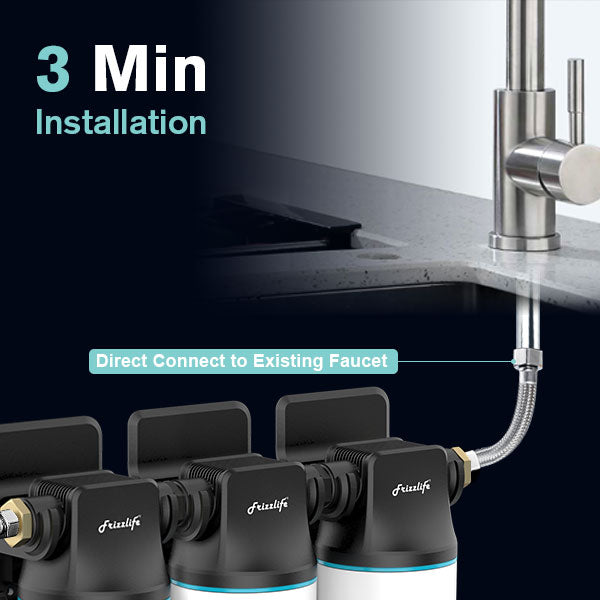 3 min DIY Install
The system comes with everything you need for installation. The entire installation process only takes 3 minutes. No additional plumbing service is required! Only one inlet hose is in need and attaches the existing faucet hose to the outlet port of the system. Two extra outlet hoses are also included for longer distances. The innovative design employs fewer connection points, which also greatly cuts down the potential risks of water leakage.The system pack also includes two stand holder which allows the system to stand alone on the ground.
Cost-Effective & Green Choice
TW10 under sink water system is indeed a cost-effective choice for the long term. Compared to other water filtration on market, You will find this model only requires replacing the inside filter cartridge, the plastic outer housing is durable and can be used for years. Frizzlife aims to deliver efficient water solutions with lower replacement costs in a greenway.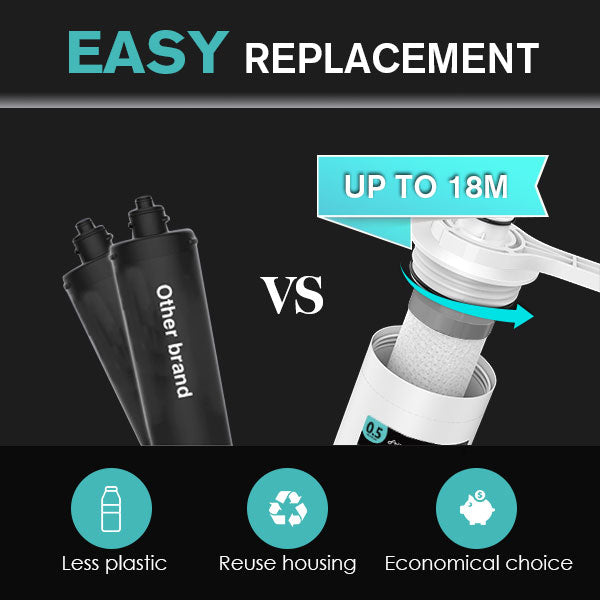 3 secs Replacement
Thanks to the auto shut-off design, there is no need to cut off feed water before the replacement. Simply twist to replace the inner core filters, saving your time and efforts. If you find the replacement of the inner filter to be difficult, you could also purchase the whole replacement cartridge with the filter loaded. Search "Frizzlife SED10R" for 1st stage replacement, "Frizzlife CP10R" for 2nd stage and "Frizzlife CB10R" for 3rd stage inner core replacement.
Great Taste & Fast Water Flow
The water filter under counter uses premium coconut shell carbon that can greatly improve your water taste, remove odors and chlorine and bad taste of your water. The tested water flow of the TW10 under the sink water filter system can reach > 2.2 GPM@60psi. You could fetch a cup of crispy clean water from your tap within 3 sec whenever you want to hydrate yourself!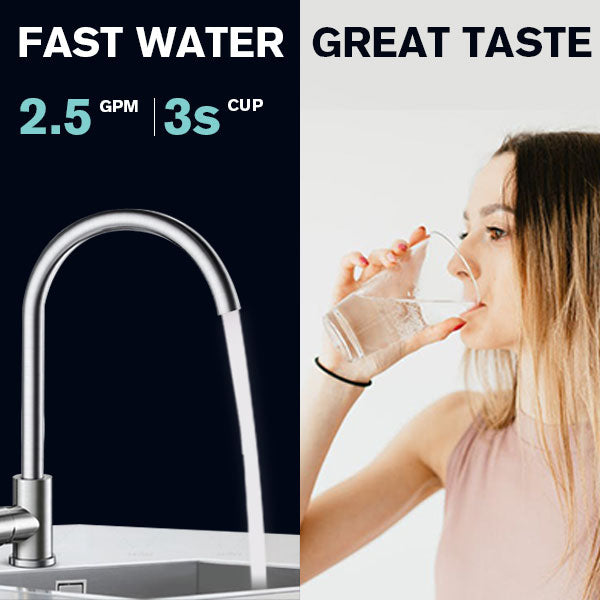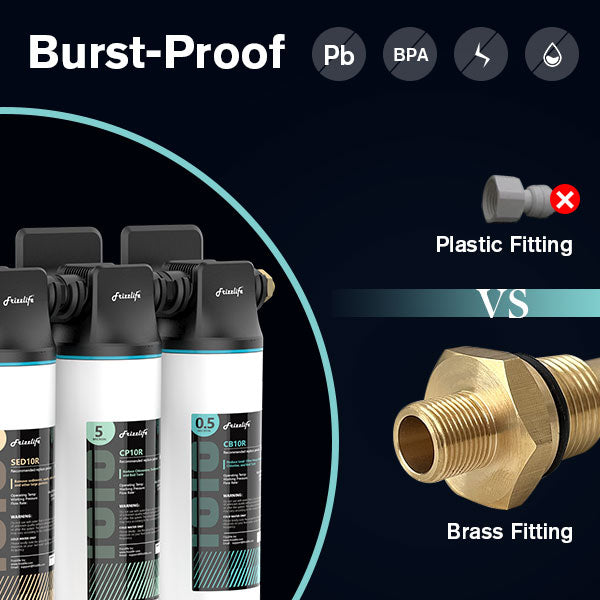 Sturdy Construction
The TW10 drinking water filtration system utilizes high-grade lead-free brass fitting rather than cheap and flimsy plastic fittings. The filter housings are made of burst-proof materials and the full systems have passed the 100,000 times water hammer test. The reinforced construction provides a secured water filtration experience without cracking or leaking concerns.
Multi-Usage
The water purification system can be installed in different places such as the kitchen, office, bathroom, and RV. No drilling hole is needed for an extra faucet. So it is also perfect for a rental apartment. Additionally, the TW10 water filter can simultaneously serve both your sink and the refrigerator by using the ice maker connection kit IMC-2.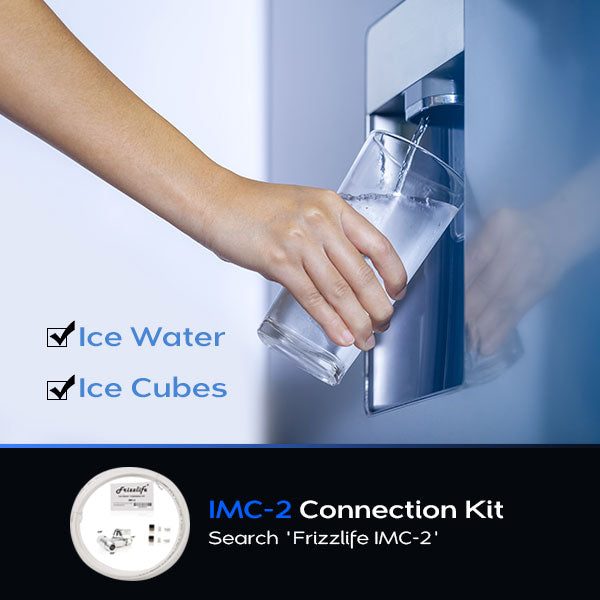 Q: How does the TW10 water filter affect TDS/PPM in water?
A: TDS is not a professional way to test the water quality, TDS means total dissolved solids. For example, if you put very little salt(NaCl) into the water and test the TDS, you will find the result is dramatically high. The same thing, if your water is full of minerals, the TDS is very high too.
The TW10 doesn't remove any of the minerals from water, it only stops heavy metals such as Lead, Mercury, Cadmium, and over 70-80 VOCs, and it removes greatly the chlorine from water. Therefore, it is the reason why the TDS you get is not that lower as you expect.
TDS meter testing method is widely used in reverse osmosis systems since the RO filter system also removes minerals from water. If a RO membrane doesn't have a good performance, the TDS will be relatively high. And if TDS is getting much higher, means it's time to change the RO membrane.
So please do not use TDS to test any water except Reverse Osmosis System, because the result is meaningless.
Q: How often should the filter cartridges of TW10 be replaced?
A: About the service life of the filter cartridge for TW10, we would like to recommend you to change the inner core filter per 12-16 months. Please notice the service life depends on your water quality and daily usage. All the specification data of the flow capacity that is listed on the sticker is based on actual tests from the laboratory and its provided water. The more frequently you change the filter, the better water you could get.
Q: Why water filter can not be used on well water?
A: This filter should be used in conjunction with municipally treated drinking water or water that has been properly disinfected before use. The water filter cartridge is manufactured with 0.5micron carbon (top rate) that will get easily clogged up by any type of dirt or settlement from a well.
Q: How can I connect the TW10 filter system to the refrigerator/ice maker?
A: If you would like your refrigerator or ice maker to have clean and safe water from the Frizzlife filter system, we also have an IMC-2 icemaker kit available on our online store.
If you have any further questions, please feel free to contact us at support@frizzlife.com
| | | | |
| --- | --- | --- | --- |
| Model No. | TW10 | Filter Cartridge Inside | SED10R,CB10R,CP10R |
| Product Dimensions | 14.6x4.7x15.7 inches | Item Weight | 13 lb |
| Operating Temperature | Min.39ºF,Max 100ºF | Operating Pressure | Min.20psi, Max.80psi |
| Flow Rate | 2.2GPM @ 60 psi | Usage Environment | Indoor use only |