Frizzlife 800 GPD Tankless Reverse Osmosis Water System, PD800-TAM4
---
---
Frizzlife 800 GPD Tankless Reverse Osmosis Water System, PD800-TAM4 is backordered and will ship as soon as it is back in stock.
Shipping Charges:

USA, Canada, UK, France & Germany

Free shipping for order over $25.

$5 for order less than $25.

Other European countries & other countries

Contact us by email to get the shipping details and invoice.

Bulk order

For bulk order over $1000, the shipping charge depends on some factors (i.e., countries, products weight), please email us for more details.

Shipping Time:

USA, Canada, UK, France, Germany

It will take 3-7 Business Days by UPS, USPS, DHL, FedEx or similar courier.

Note: Delivery time does not include weekends, national or international holidays, or handling times.
Payment methods
Your payment information is processed securely. We do not store credit card details nor have access to your credit card information.
【Alkaline & Remineralized RO Water】 PD800 under sink RO system adopts 7-layer filtration with 0.0001 filtration precision. Effectively gets rid of 1000+ kinds of harmful contaminants (99.99%), including Chlorine, Fluoride, Lead & other heavy metals, Arsenic, Chloramine, TDS, limescale, VOCs and much more. TAM4 post filter balances the alkalinity of RO water and adjusts PH to more than 7.5, and restores essential minerals to your drinking water. One more step beyond pure water towards healthy!
【2:1 Super Low Drain Ratio】Thanks to the innovative water saving technology, the under sink reverse osmosis systems features with 2:1 super low drain ratio. By producing 2 cups of ultra pure RO water, only 1 cup of waste water will be drained. Compared with most RO filters on market, save at least 8 Times of water! The system pays for itself in water saving along the usage.
【800 GPD Fast Water Flow】PD800-TAM4 RO water filter is capable of producing 800 gallons of RO water per day. The tested flow rate can reach up to 0.56 gallon per minute. The fast and stable water flow ensures that you can always fill up a 8oz cup with fresh drinking water in 7 secs! The large capacity can meet daily water needs of big families and small companies!
【Real-Time TDS Reading & Filter Life Monitoring】The RO filtration systems features with a high-end smart panel, which clearly tells real-time TDS and remaining filter life of each cartridge. The built-in TDS sensor keep monitoring the quality of filtered water 24/7. The premium water quality is always visible, you know your water! The color-coded filter life indicators always remind you to replace the expiring filter cartridge in advance. The replacement only requires a Single Twist!
【Tankless, No Secondary Pollution】Frizzlife PD800-TAM4 RO water filter system with Tankless design prevents potential secondary contaminants brought by the pressure tank. The built-in pump guarantees the RO water running out from the dedicated faucet is fresh and on demand! Meanwhile, it saves at least 70% under sink space. The integrated design comes with less connection point, the installation is DIY friendly and can be done in a few minutes with the straightforward guide video.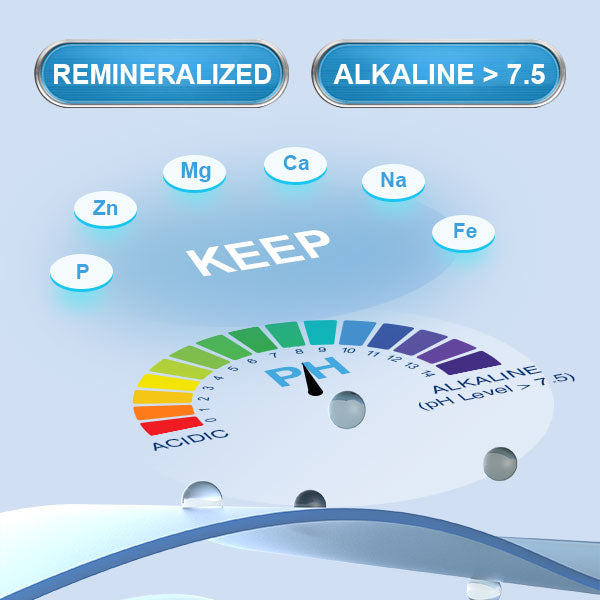 Alkaline & Remineralized
Traditional reverse osmosis systems produce slightly acidic RO water and removes essential minerals. By addressing the inherited drawback of RO water, PD800-TAM4 under sink filter system focuses more on long-term health. Utilizing natural elemental tiny stones and particles, TAM4 post filter balances PH level to weakly alkaline (>7.5) and restores minerals by imitating the minerals stones under the lake bottom
2:1 Super Low Drain Ratio
Adopting innovative water saving technology, Frizzlife PD800-TAM4 water filter further lowers the drain ratio to 2:1 and saves more than 600% water. It means dispensing 2 cups of RO water only generate 1 cup of waste water! Waste water can be used for mopping, car washing, etc..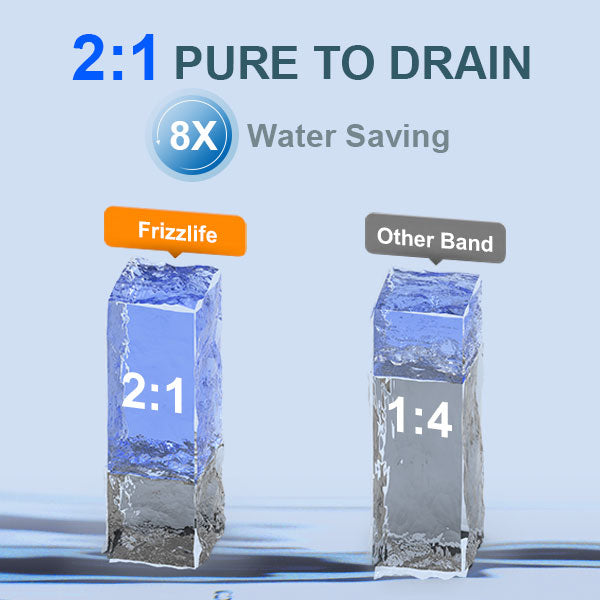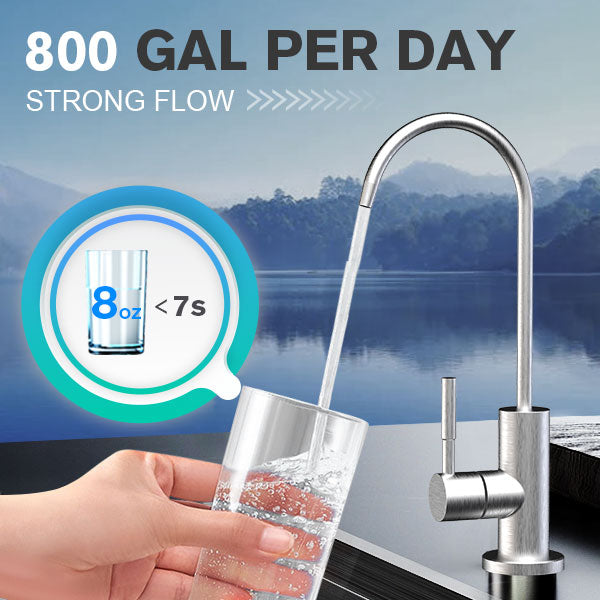 800G Fast Water Flow
The high capacity of PD800-TAM4 reverse osmosis system guarantees the strong and stable flow, and also makes it an ideal choice for large families and companies. The tested flow rate can reach 0.56 gallons per minutes. It means a 8oz cup can be filled up with fresh and tasty Frizzlife water within 7 secs!
Real-Time TDS & Filter Life Reminder
The built-in smart panel is waterproof thus there is no need to worry about electrical leakage. The TDS sensor keep monitoring the filter water quality and the TDS result is updated per minute. Besides, the color-coded indicators will remind you to change the filter cartridges in advance. Blue stands for good while red indicates a change of filter. The system is built for convenience, forget the guesswork!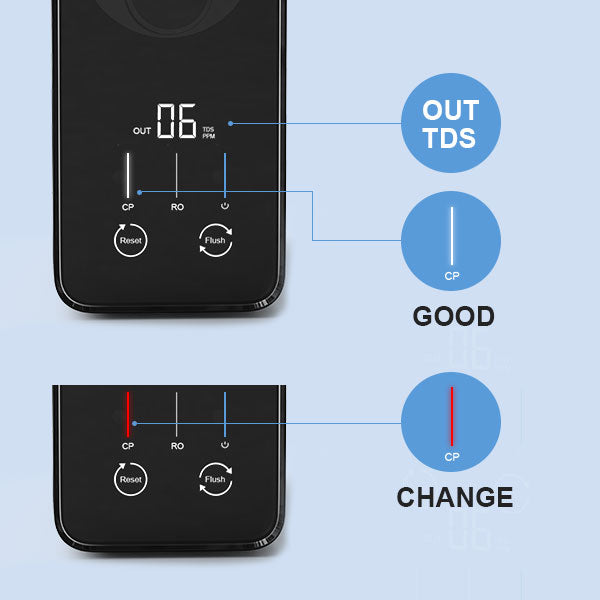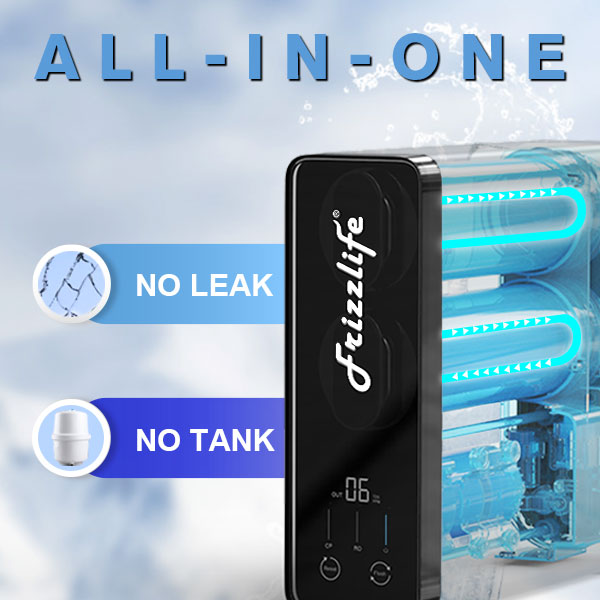 Tankless, No Leak Concern
Besides saving 70% under sink space, this tankless RO filtration system also avoid secondary pollution risks brought by the pressure tank. The integrated waterway design with less connection points remarkably cut down the potential water leakage risks. No more leak concerns, get assured to use.
DIY Install & Quick Replacement
Comes with filter cartridges loaded, PD800-TAM4 reverse osmosis filter can be installed all by yourself in a breeze following a step-by-step install guide video and comprehensive user manual. Everything needed for installation is included in the package including a brush nickel faucet set! Save money from professional plumber hiring! The filter replacement work can be done in a snap and only requires a Single Twist.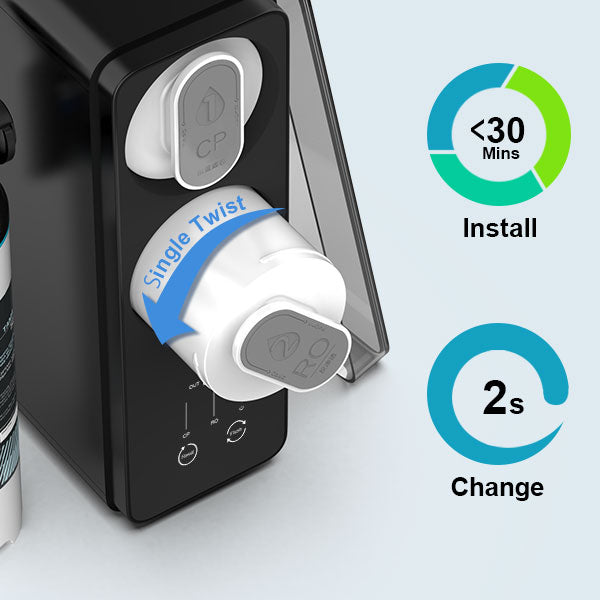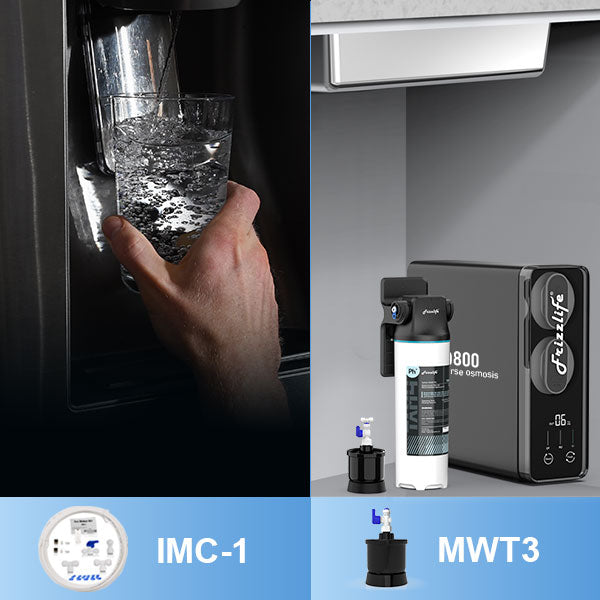 Multi-Usage & Mini Tank
Need a quick sip of iced water? This tankless RO filter system can be hooked up to the refrigerator or ice maker machine by utilizing Frizzlife IMC-1 ice maker connection kit. A mini tank (not include) is available now to solve pressure correlated issues, please search "Frizzlife MWT3" on our website.
Q: Why there are many white bubbles in the water?
A: Normally for the first time use of the RO system, the water seems to have white bubbles in it,
which is normal and totally drinkable. It is because when the pump is pressurizing the water, it
will pressurize the air at the same time. It will make the air molecules smaller, thus the solubility
further increases. The air can't be released at that time because of the pressure in the RO system.
However, when you turn on the tap to get a cup of water, the pressure of air is released. So you
will see a huge number of bubbles in the water. It looks cloudy and white, but they are just
bubbles. After you put the water still for a while, all bubbles will be gone, the water is totally
good for drinking.
Q: TDS tester pen shows higher result than the TDS number displayed on the PD800-TAM4?
A: It is because the TAM4 filter, the post filter, adds the minerals to the water. Normally the TAM4
will increase the TDS by 10-30 ppm. If the system hasn't been used for a while, the TAM4 will
restore more minerals to the water, and at that time the water is very good, the PH level will be
more than 9.
Q: Why TDS is higher at the beginning, but back to normal range after about one minute?
A: Osmosis is a natural phenomenon happens in all RO system, no matter if you have a conventional
RO system or tankless RO system. When the RO system starts to work, pressure from the pump
overcomes natural osmotic pressure, forcing feed water through the RO membrane that removes
the impurities. When the RO system stops working, the pump stops offering pressure as well. At
that time, because of different concentrations, a small fraction of ions will enter into pure water
and cause TDS to rise by a small amount. However, even if the TDS reading is a little high at the
beginning, the quality water is still unbeatable by any other filtration methods including carbon,
KDF, ceramic, UF, UV, etc.. The water is totally good to drink and you don't have to wait for about
1 minute to get the water, since the whole system will not release any harmful substances to the
water. The TDS removing rate for PD800-TAM4 is about 94-95%, if your incoming TDS is high, the outlet
TDS will be high too.
Q: How does the TDS display on the machine work?
A: When the system is running, the TDS sensor in the PD800 will keep testing the water quality
every 1 minute. Therefore, the TDS result you see from the machine is from the last test memory.
If you want to have the real-time TDS result, please let the machine run for about 1 minute.
Q: If I don't want to use the TAM4, how should I disconnect it?
A: You don't have to disconnect the tubing and the fittings on the TAM4. You only need to unscrew
the TAM4 filter and the water still can go through.
Q: My granite is thicker than 1.5 inch and the faucet stem is not long enough, what should I do?
A: Please feel free to contact us at support@frizzlife.com to claim for a longer thread stem.
| | | | |
| --- | --- | --- | --- |
| Model No. | PD800-TAM4 | Filter Cartridge Inside | ASR211, ASR212-800G, TAM4 |
| Product Dimensions | 5.3x14.7x15.5 inches | Item Weight | 30 lb |
| Working Pressure | Min.20psi Max.80psi | Flow Rate | 0.56 GPM |
| Rated Voltage | 110-240 VAC | Frequency | 50-60 Hz |
| Rated Power | 120 W | Operating Temperature | Min.39ºF, Max 100ºF |