FRIZZLIFE MV99 RV Water Filter-NSF 42&53 Certified
---
---
FRIZZLIFE MV99 RV Water Filter-NSF 42&53 Certified is backordered and will ship as soon as it is back in stock.
Shipping Charges:

USA, Canada, UK, France & Germany

Free shipping for order over $25.

$5 for order less than $25.

Other European countries & other countries

Contact us by email to get the shipping details and invoice.

Bulk order

For bulk order over $1000, the shipping charge depends on some factors (i.e., countries, products weight), please email us for more details.

Shipping Time:

USA, Canada, UK, France, Germany

It will take 3-7 Business Days by UPS, USPS, DHL, FedEx or similar courier.

Note: Delivery time does not include weekends, national or international holidays, or handling times.
Payment methods
Your payment information is processed securely. We do not store credit card details nor have access to your credit card information.
【CERTIFIED TRUSTED WATER】: Frizzlife MV99 Lead Free RV water filter system is certified by IAMPO R&T against NSF/ANSI 42&53.
【SOLID BRASS CONNECTIONS WITH PRESSURE REGULATOR】: The connection fittings of the RV water filtration system are made of high standard LEAD-Free brass material, which is compatible with any standard 3/4" garden hoses. It comes with a copper made water pressure regulator to protect the system from extra high pressure of the garden dispenser or outdoor water source.
【EXTRA-LONG SERVICE LIFE & FAST FLOW】: Frizzlife MV99 inline RV filter is much bigger and more sturdy when compared to traditional RV hose filters, serving with 2-4X ultra long lifespan. Replacement filter model FZ-2, FZ-3. Tested water flow > 1.5 GPM @ 60 psi.
【AUTO SHUT OFF DESIGN】: A filter holder with metal pegs is included in the filter package which is perfectly designed for outdoor usage. The water filter is featured with AUTO SHUTOFF design. You don't even need to shut off the water supply when you are about to change the filters.
【EASY INSTLLATION & ECO FRIENDLY】:Installed within 5 min following comprehensive manual and step-by-step installation video. Replaced within 3 sec. You only need to replace the inner core filter.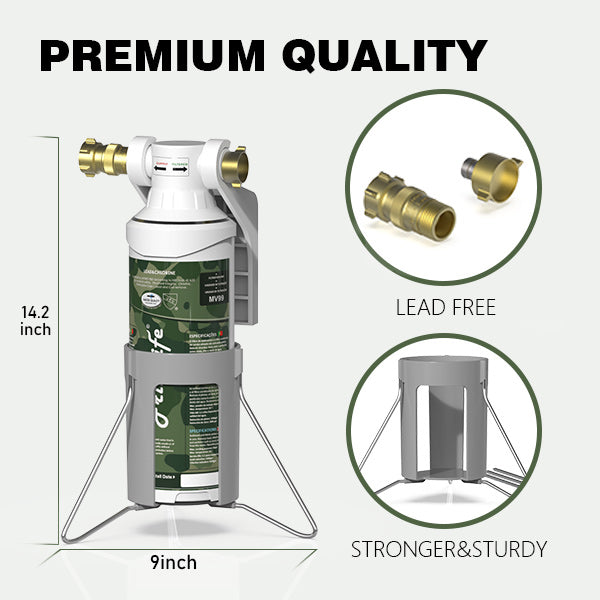 Premium Quality
The complete package of MV99 RV water filter comes with lead-free brass fittings, a brass water pressure regulator, and a filter holder. It is much stronger and more sturdy with superior leakage-protection design.
Fast Water Flow
After connected to outdoor water source, you are able to get instant access to fast water flow at 1.5 GPM @ 60psi, getting a cup of water within 3 sec.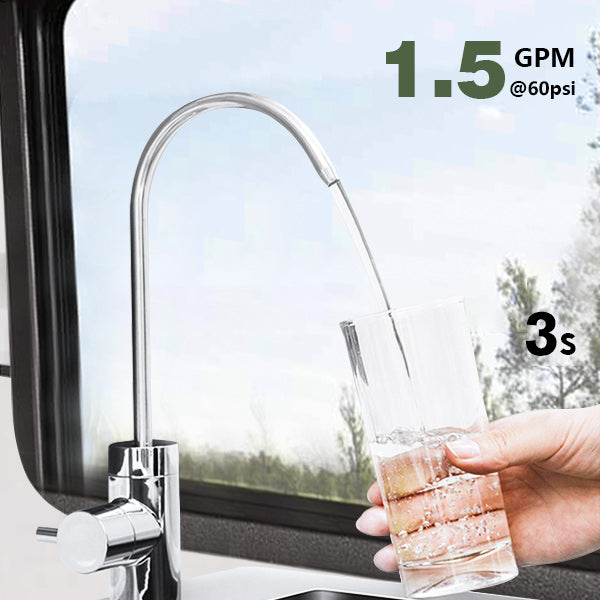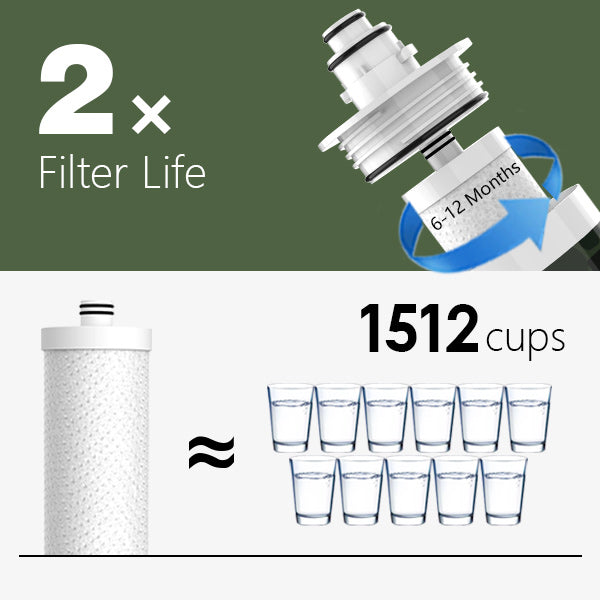 Ultra Long Service Life
Approximately, one filter of MV99 is equivalent to 1,512 plastic bottles of water. The service life of each replacement filter is more than 2 times longer and thus is more budget friendly!
Easy Installation & Quick Change
Anything needed for installation is included in the package. You can do the installation all by yourself with in 5 min following instructional video on YouTube.
Comprehensive manual
Instructional video
Twist-in design for replacement.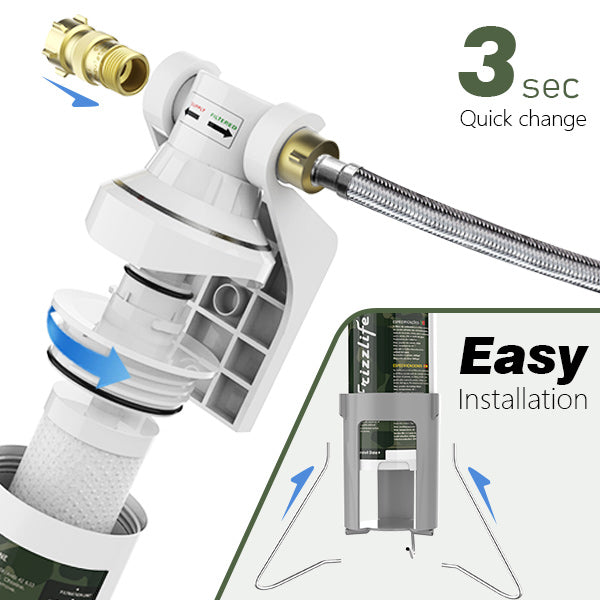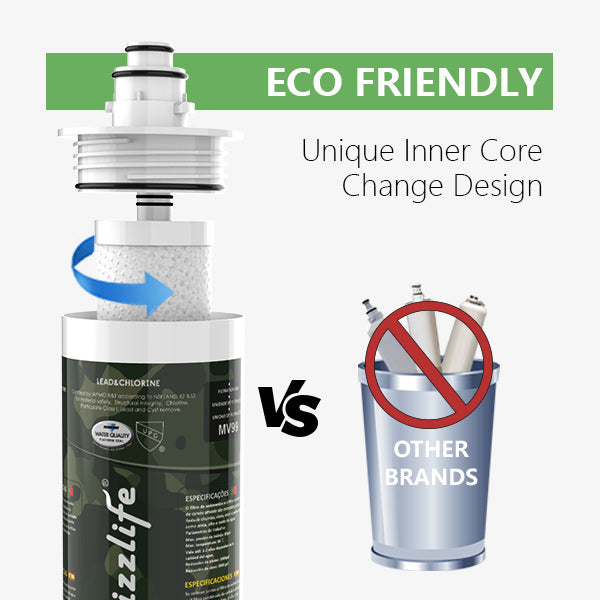 Money Saver & Green Choice
Frizzlife realize the green idea of only changing the inner core of the filter, saving more plastic waste and thus lowers the cost of the replacement filter.
Refuse single-use bottles
Reuse filter housing
Reduce plastic waste
Multiple Usage
Installing the RV/marine water filter, your endless fresh water source has been guaranteed for multiple usage:
Gardening
Washing
Drinking
Camping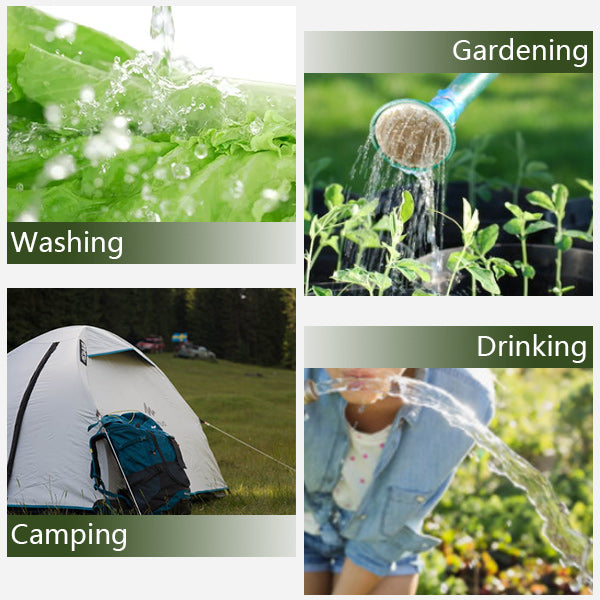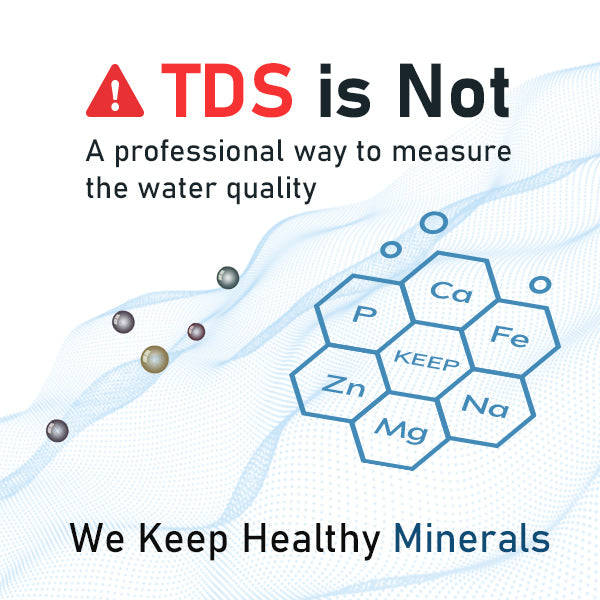 Not a TDS Removal Filter
TSince the system does not remove essential minerals from raw water, the TDS value will not be dropped drastically. It is not designed for removing TDS.
Remove only harmful elements
Leave in beneficial materials
TDS is not effective in evaluating general water filter
Replacement Filters/Pack
1.Replace the inner filter per 3-6 months: FZ-2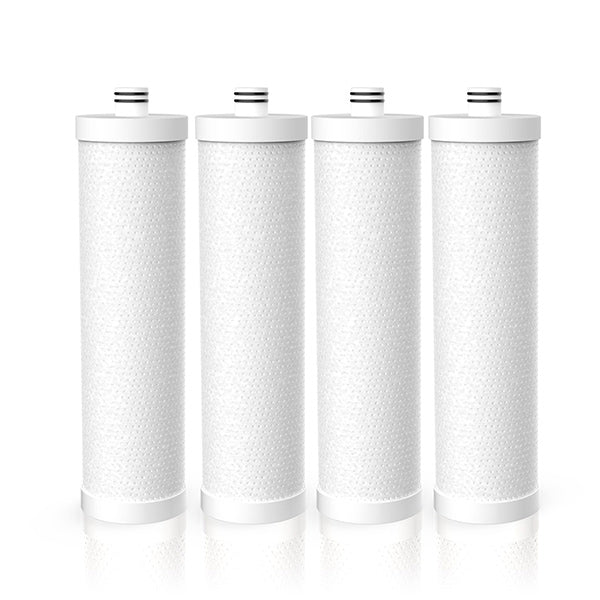 Question:
How long the hose that come with the filter?
Answer:
The filter system come with a 59 inches hose.
Question:
How frequent I have to change filter?
Answer:
The filtration capacity for Chlorine is 5000G, and filtration life for LEAD is 1000G, so the filter life can be 6 month to 2 years depend on your daily usage and feed water quality. but we won't suggest you do the cartridge change very long. As you know the filtration performance is dropping gradually when time goes by, so the longer time you use, the less good water you get. The best time is 1 year or less, the filter cartridge maintenance is much cheaper than the other brands, so it will still save you a lot of money even you change often.
Question:
Do you know what the tds/ppm of the filtered water is?
Answer:
Hi, thanks for your inquiring with us. TDS is not a professional way to test the water quality, TDS means total dissolved solids, for example if you put a very little salt(NaCl) into the water and test the TDS, and you will find the result is dramatically high. Same thing, if your water is full of minerals, the TDS is very high too.
The MV99 RV water filter doesn't remove any of the minerals from water, it only stops heavy metals such as Lead, Mercury, Cadmium, and it removes greatly the chlorine from water, and the carbon is bacteria static.
TDS meter testing method is widely used in reverse osmosis system, if a RO membrane doesn't have a good performance, the TDS is relatively higher. And if TDS is getting much higher, means it's time to change the RO membrane.
So please do not use TDS to test any water except Reverse Osmosis System, because the result is meaningless.
Question:
Answer:
Hello, thanks for inquiring with us! Yes, the system can stand on the grass with no problems. It come with a system holder and holder stakes.
Question:
can I feed water from my garden?
Answer:
Hi, thanks for inquiring with us! Definitely, the system use 3/4"garden hose connection, you will be able to get water from your garden tap.

Question:
Answer:
Hi, thanks for inquiring with us. The MV99 RV water filter is certified by IAPMO R & T against NSF/ANSI 42 and 53 standard. If you have any further questions, please feel free to contact us.
Question:
Answer:
Hi dear customer, Yes, this rv water filter will remove iron from water. If you have any further questions, please feel free to contact us.
Question:
What is the maximum water pressure that this system can handle?
Answer:
This RV water filter package come with a pressure regulator, so don't worry, it can handle.
Question:
Does this filter have to be in an upright position to work?
Answer:
It come with a holder and some stacks for the filter housing, yes, upright position.
Question:
My garden tap has very strong water pressure, will that work?
Answer:
Hi, thanks for inquiring with us. The system come with a solid brass pressure regulator, which will protect the system from high pressure water. Please don't rest assure to use it.
If you have any further questions, please feel free to contact us at support@frizzlife.com

| | | | |
| --- | --- | --- | --- |
| Model No. | MV99 | Filter Cartridge Inside | FZ-2 / FZ-3 |
| Product Dimensions | 13.5 x 5 x 5 inches | Item Weight | 6.1 lb |
| Operating Temperature | Min.39ºF,Max 100ºF | Operating Pressure | 20psi Max. 80psi |
| Flow Rate | 1.5 GPM @ 60 psi | Usage Environment | Indoor/Outdoor |