Frizzlife Inline Water Filter System for Refrigerator, Ice Maker, Under Sink, Certified 0.5 Micron, MS99
---
---
Frizzlife Inline Water Filter System for Refrigerator, Ice Maker, Under Sink, Certified 0.5 Micron, MS99 is backordered and will ship as soon as it is back in stock.
Shipping Charges:

USA, Canada, UK, France & Germany

Free shipping for order over $25.

$5 for order less than $25.

Other European countries & other countries

Contact us by email to get the shipping details and invoice.

Bulk order

For bulk order over $1000, the shipping charge depends on some factors (i.e., countries, products weight), please email us for more details.

Shipping Time:

USA, Canada, UK, France, Germany

It will take 3-7 Business Days by UPS, USPS, DHL, FedEx or similar courier.

Note: Delivery time does not include weekends, national or international holidays, or handling times.
Payment methods
Your payment information is processed securely. We do not store credit card details nor have access to your credit card information.
【CERTIFIED PREMIUM FILTRATION PERFORMANCE】The full system is certified by IAPMO R&T against NSF/ANSI 42&53. MS99 refrigerator water filter system adopts top grade compound filter cartridge, which can remove over 99.99% of contaminants while leaving in all essential minerals. Effectively reduce LEAD, HEAVY METALS, CHLORINE, CHROMIUM 6, MERCURY, RUST, VOLATILE ORGANIC COMPOUNDS, CARCINOGENS and other contaminants, turbidity, odors & bad taste.
【EASY INSTALLATION & FIT FOR COPPER TUBING】can be connected to either under kitchen sink angle valve or refrigerator angle valve. The system can be installed within few minutes all by yourself. Additionally, the unique design of the compression lead-free filter head can fit both of the PEX tubing provided in the package, and flexible copper tubing based on your needs.
【AUTO SHUT-OFF DESIGN & QUICK CHANGE】There is no need to shut off the water supply for filter replacement. The twist-in design allows the filter to be changed in secs. The water filter system is compatible with most standard 3/8" US water supply. Replacement Filter: FZ-2, or FZ-3.
【MONEY SAVING & ECO FRIENDLY】 Each cartridge of MS99 inline external refrigerator filter can provide 2-year advanced filtration service, 5X longer than most conventional refrigerator filters on market. You only need to change the inner core filter.
【FAST FLOW RATE & 24/7 CUSTOMER SERVICE】tested water flow at 1.4 GPM @ 40psi. Get instant access to clean and fresh ice water by pressing the lever, filling a cup of 330ml ice water within 3 seconds.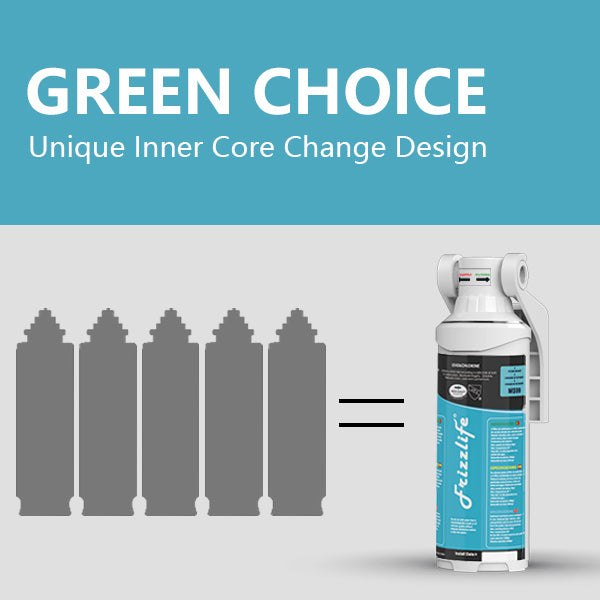 Extended life & 80% money saving
The filter life is 5X longer than traditional refrigerator filters on market. Save at least 80% money on filter replacement! Say goodbye to traditional expensive refrigerator filters!Each filter cartridge can replace more than 12,000 standard 16.9 oz water bottles. No more bulky plastic bottled water.
Green choice & less waste
Abandoning all-in-one design, MS99 under counter filter uses replaceable filter cartridge. In other words, you only need to change the inside filter cartridge. Enjoy the superior water filter service in a more economic and green way.

• Twist to change

• 

Cheaper cartridge

• 

Less plastic wastes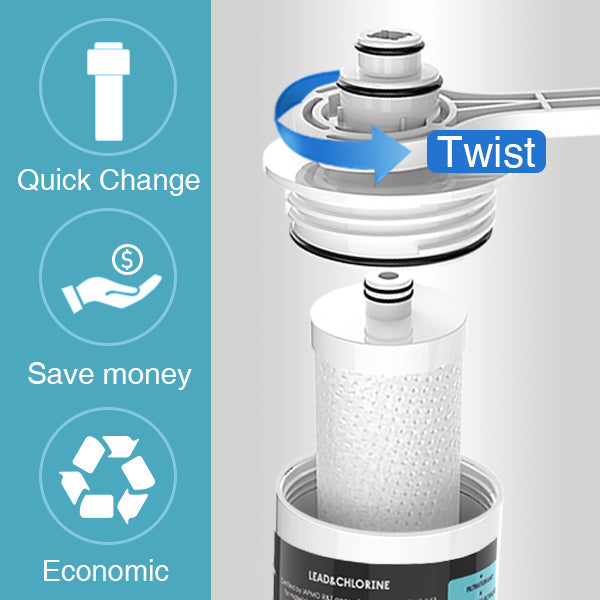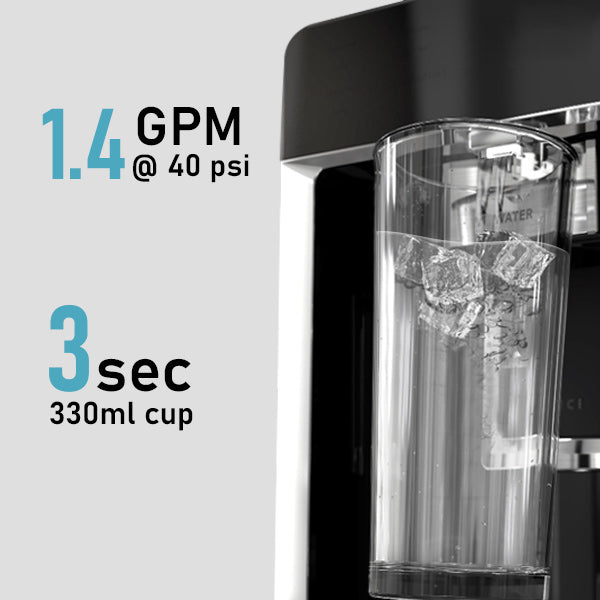 No waiting for crisp ice water
MS99 under sink filtration system ensures stable fast 1.4 GPM flow rate @ 40 psi. The only thing you need to do is to press the lever and wait for about 3 seconds to get a full 330ml cup of filtered ice water. Satisfy your thirst in a snap!
Deliver better-tasting water & ice cubes
The under sink water filtration system removes odors & bad taste from water, gives water from refrigerator dispenser a more pleasant taste. By effectively reducing pollutants from water, MS99 filter system also ensures crystal clear ice cubes.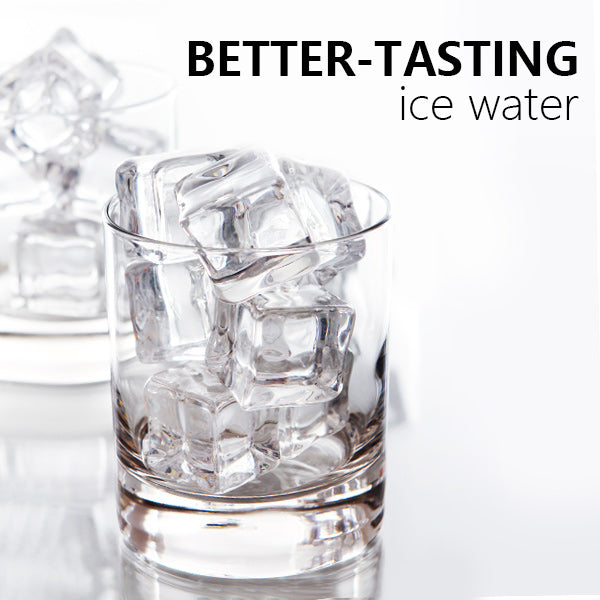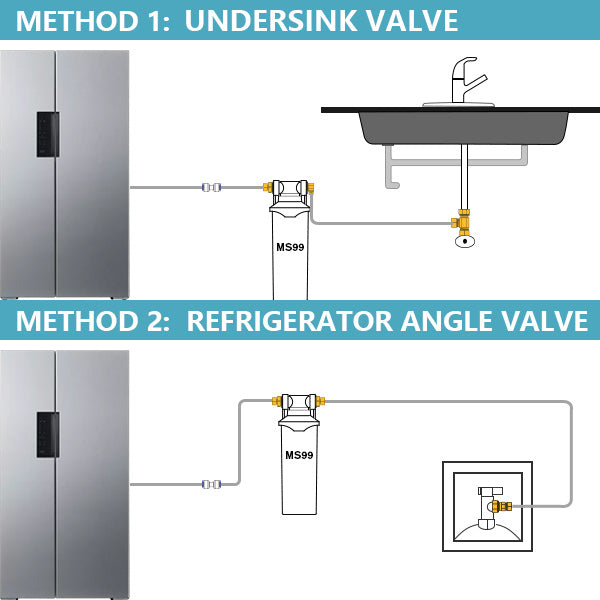 Two installation methods
You could either connect the water filter to under sink stop valve or refrigerator valve. The external inline water filter for refrigerator is rather easy to be installed within min all by yourself following comprehensive instruction and video.
High Compatibility
With premium lead-free compression brass fittings, the filter can be installed by either using provided PEX tubings or your existing copper tubings. It fits for most US standard 3/8" kitchen water system. If your connection size is 1/2", please search ASIN# B07LD3GN4X to purchase the adapter.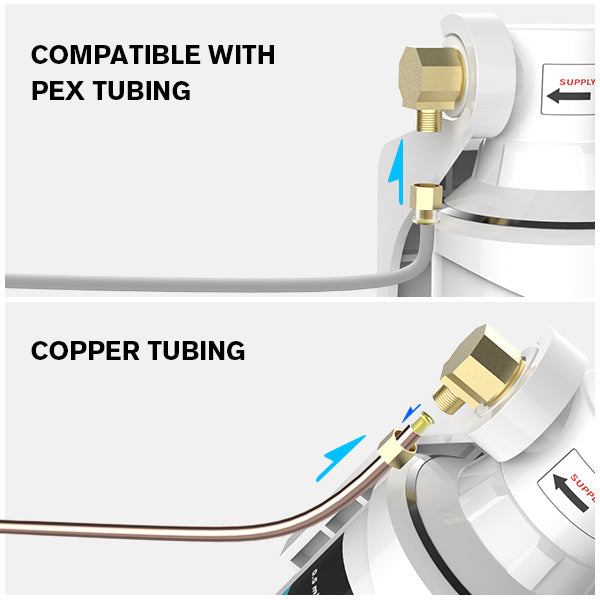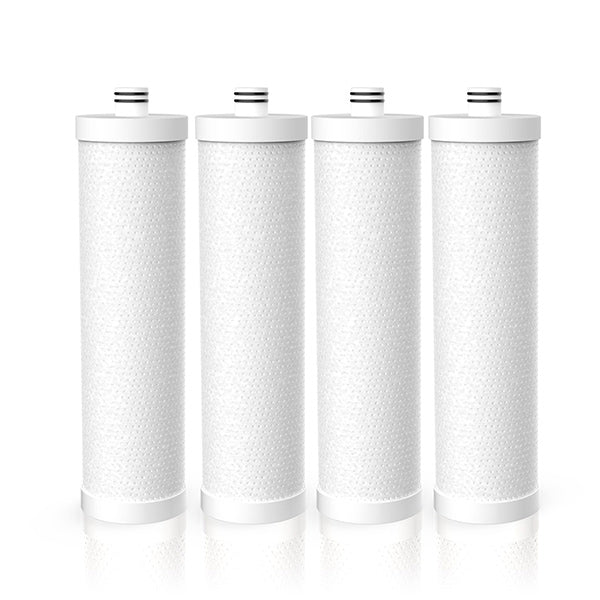 Replacement Filters/Pack
1.Replace the inner filter per 3-6 months: FZ-2
Question:
Does this refrigerator water filter has any certification?
Answer:
Hi, great questions! The MV99 water filter is certified by IAPMO R & T against NSF/ANSI 42 and 53 standard.
Question:
Are replacement filters available? What's the model number?
Answer:
Hi dear customer, The replacement filter for this water filter system is: FZ-2 or FZ-3
Question:
Does this product take away odor taste in water?
Answer:
Love the taste!!! Ice cube become so clear and tastable.
Question:
Can the filter replaced without shutting off the water supply?
Answer:
Yes, no need to shut off water supply. It has an auto shutoff switch some sort.
Question:
My fridge has a copper tubing behind, will this work?
Answer:
Mine is copper tubing too, it work perfectly! very thoughful system.
Question:
Can this be mounted horizontally?
Answer:
Hi dear customer, Great question! Regarding the installation of the water filter, mount horizontally is totally ok. But in order to ensure the best of the filter function, we would recommend that you install it vertically.
Question:
Can I install under sink? only have feed water there
Answer:
Hello, thanks for contacting us! Yes, It will work perfectly!!! The system come with a feed water adapter which will allow the system to install under the sink.
Question:
How long does the filter cartridge last?
Answer:
Hi, thanks for inquiring with us! The filtration capacity for Chlorine is 5000G, and filtration life for LEAD is 1000G, so the filter life can be 6 month to 2 years depend on your daily usage and feed water quality. but we won't suggest you do the cartridge change very long. As you know the filtration performance is dropping gradually when time goes by, so the longer time you use, the less good water you get. The best time is 1 year or less, the filter cartridge maintenance is much cheaper than the other brands, so it will still save you a lot of money even you change often.
Question:
Answer:
Hi dear customer, thanks for inquiring with us. This refrigerator water filter system come with two PEX tubings, one is 1.5feet, the other is 15feet.
If you have any further questions, please feel free to contact us.

| | | | |
| --- | --- | --- | --- |
| Model No. | MS99 | Filter Cartridge Inside | FZ-2 / FZ-3 |
| Product Dimensions | 13.5 x 5 x 5 inches | Item Weight | 6.1 lb |
| Operating Temperature | Min.39ºF,Max 100ºF | Operating Pressure | 20psi Max. 80psi |
| Flow Rate | 1.5 GPM @ 60 psi | Usage Environment | Indoor Use Only |