Frizzlife UDS99 Under Sink Water Filter System, 8-Stage Direct Connect Water Filtration, 0.5 Micron Reduce 99.99% Lead, Chlorine, Heavy Metals, Bad Taste, NSF Certified Elements, Stainless Steel
---
---
Frizzlife UDS99 Under Sink Water Filter System, 8-Stage Direct Connect Water Filtration, 0.5 Micron Reduce 99.99% Lead, Chlorine, Heavy Metals, Bad Taste, NSF Certified Elements, Stainless Steel is backordered and will ship as soon as it is back in stock.
Shipping Charges:

USA, Canada, UK, France & Germany

Free shipping for order over $25.

$5 for order less than $25.

Other European countries & other countries

Contact us by email to get the shipping details and invoice.

Bulk order

For bulk order over $1000, the shipping charge depends on some factors (i.e., countries, products weight), please email us for more details.

Shipping Time:

USA, Canada, UK, France, Germany

It will take 3-7 Business Days by UPS, USPS, DHL, FedEx or similar courier.

Note: Delivery time does not include weekends, national or international holidays, or handling times.
Payment methods
Your payment information is processed securely. We do not store credit card details nor have access to your credit card information.
【8-Stage Deep Filtration】Frizzlife UDS99 under sink water filter system provides 8-stage deep filtration. The 1st stage adopts high grade PP membrane and activated coconut shell carbon block, which also blended with KDF. The 2nd stage features with 0.5 micron filtration precision, by combining carbon block and lead removal ingredients, it can effectively reduce Lead, Chlorine, Fluoride, Heavy Metals, VOCs, bad taste & odor and other harmful contaminants. The essential minerals are still kept.

【Safe, Durable Materials & Reinforced Construction】Frizzlife UDS99 undersink water filtration system is made from food-grade and lead-free 304 stainless steel. By only using safe and reliable materials, UDS99 sink water filter is designed for healthy and fresh water. The thickened filter housings (1mm) are corrosion-resistant, durable and can be used for years. The whole system has passed 100,000 times water hammer test and 10,000 times pulse tests. No more burst concern.

【3 Mins Install & No Drilling】UDS99 water filter should be directly connected to the main kitchen sink cold water line, no need to drill a hole on the granite. Prefect for renters and for people who can't install a separate dedicated faucet. Fits for both 3/8'' and 1/2'' U.S. standard sinks (3/8" to 1/2" converter fittings included).

【2 Gal/Min Fast Flow & Muti-Usage】 Frizzlife UDS99 drinking water filter delivers rapid and stable water flow, which can reach 2 gal. per min @60 psi. You can fill up an 8oz cup of filtered water in less than 2 seconds! So long as you have this under counter water filter system, you can have clean water whenever you need it. With the IMC-2 ice maker kit(search "IMC-2"), it can simultaneously deliver purified water to kitchen sink and refrigerator/ice-maker.

【Last for Long & Quick Replacement】The 1st stage filter can last up to 8 months, and the 2nd stage can last up to 12 months or 8,000 gallons of filtered water (Actual filter life may vary based on your feed water quality and daily water usage). You don't need to replace the entire stainless steel housings but only the inner core filter cartridges, thus saves up the plastic wastes. Search "DSF01" and "DSF02" for replacement filters.

Note: this under sink water filter system is not designed for TDS reduction, the beneficial minerals are still kept in the filtered water.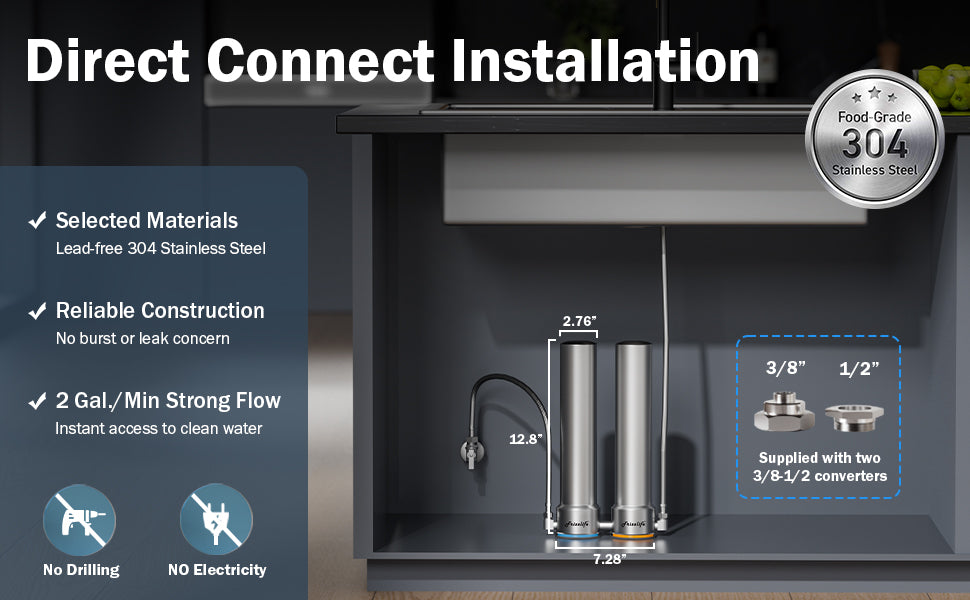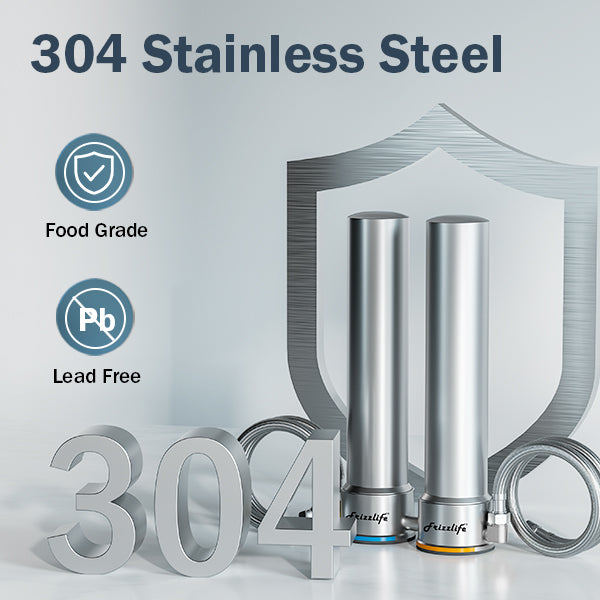 Safe Materials & Durable Choice
UDS99 under sink water filtration system not only efficient but also highly durable and safe with its 304 food-grade stainless-steel materials. Besides thickening the filter housings, the whole system has also passed 100,000 times water hammer test and 10,000 times pulse tests. Frizzlife aims to provide secured water filtration experience.
Brass Fittings, No Leakage Concern
Unlike other brands that use cheap and fragile plastic fittings, the Frizzlife UDS99 dual-stage water filtration system utilizes high-grade lead-free brass fitting. Therefore it ensures a more secure and reliable water filtration experience.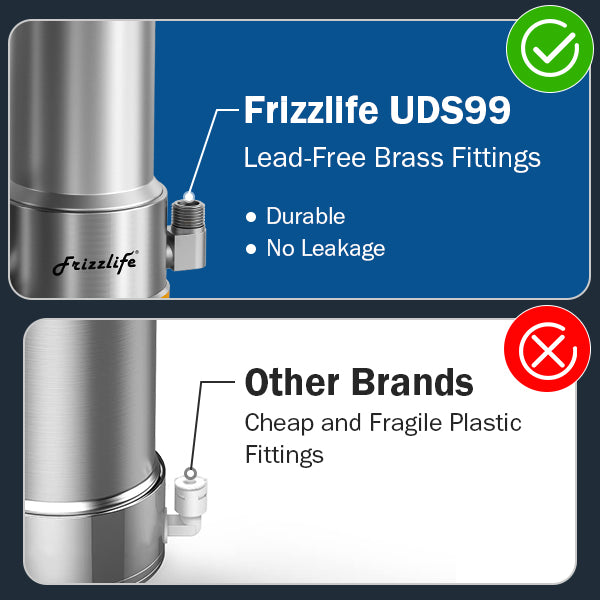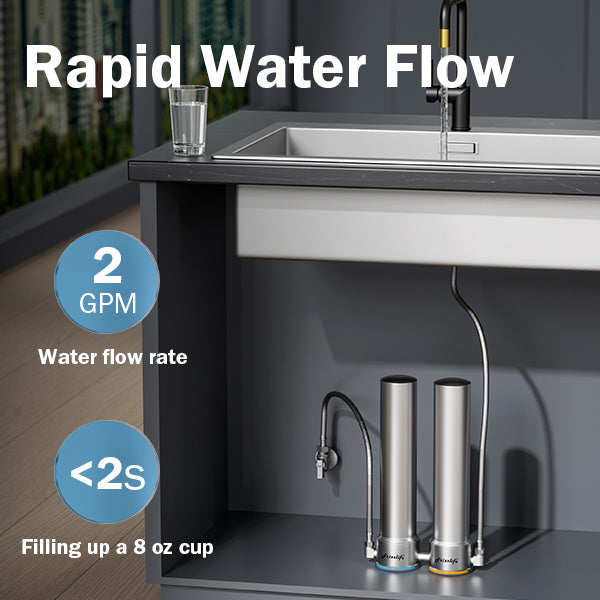 2 Gal./Min Strong Flow
The tested water flow can reach up to 2 gallons per minute (@60psi), which nearly 2X faster than most filtration systems on the market. Frizzlife aims to provide smooth drinking experience. Filling up an 8oz cup within 2 seconds
Designed with longevity & Easy Replacement
You will find only the inner core filter cartridges need to be replaced, the outer stainless steel housings can be used for years. Simply twist out the expired filter, and twist in the new filter, that is everything! Search "Frizzlife DSF01" for the 1st stage replacement, search "Frizzlife DSF02" for the 2nd stage replacement.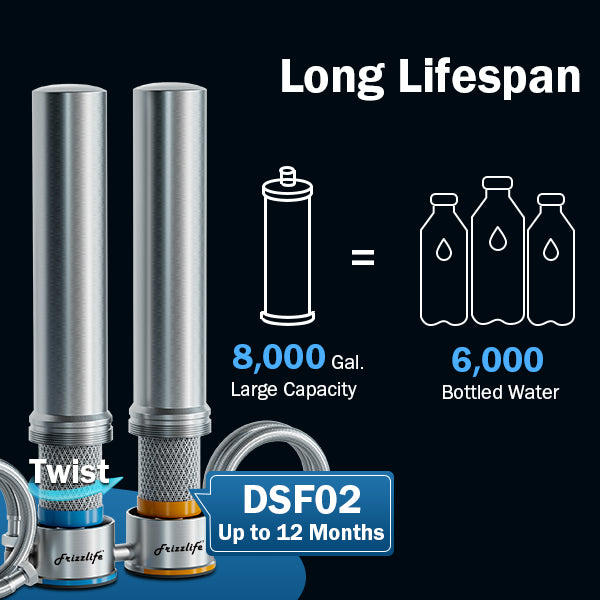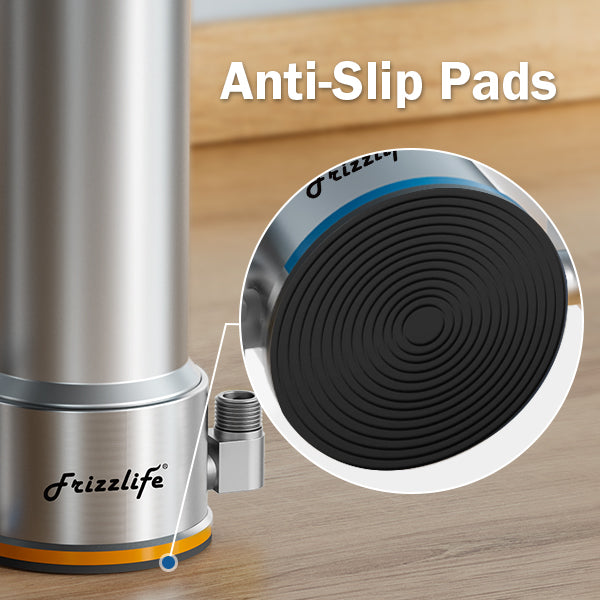 Anti-Slip Base & Thoughtful Details
Frizzlife UDS99 under sink filter system comes with anti-slip pads on the bottom of each filter housing. Besides, the colored stickers on the housings also make the replacement work more straightforward, just make sure to place the filter cartridge in the corresponding colored base.Frizzlife care about user's feelings and is always committed to delivering customer-centric filtration solution.
Hook Up to Other Water Appliances
The UDS99 stainless steel water filter can simultaneously serve both your sink and the refrigerator / ice maker by using the ice maker connection kit IMC-2 (Asin#B07RBMLR26). Get inexhaustible crispy and crystal ice cubes!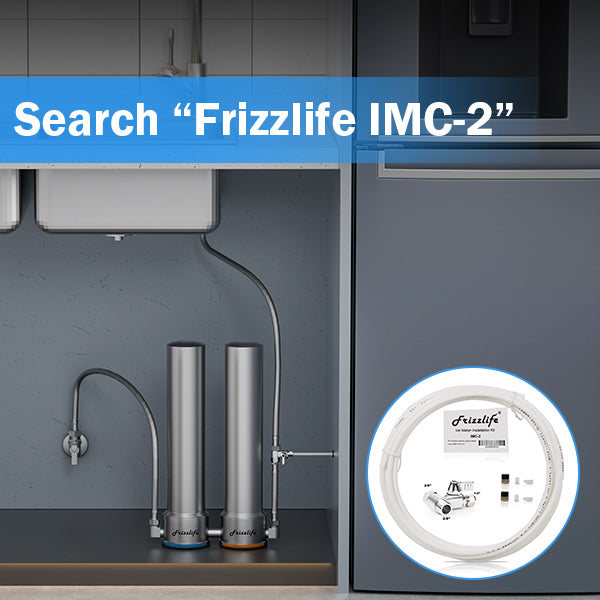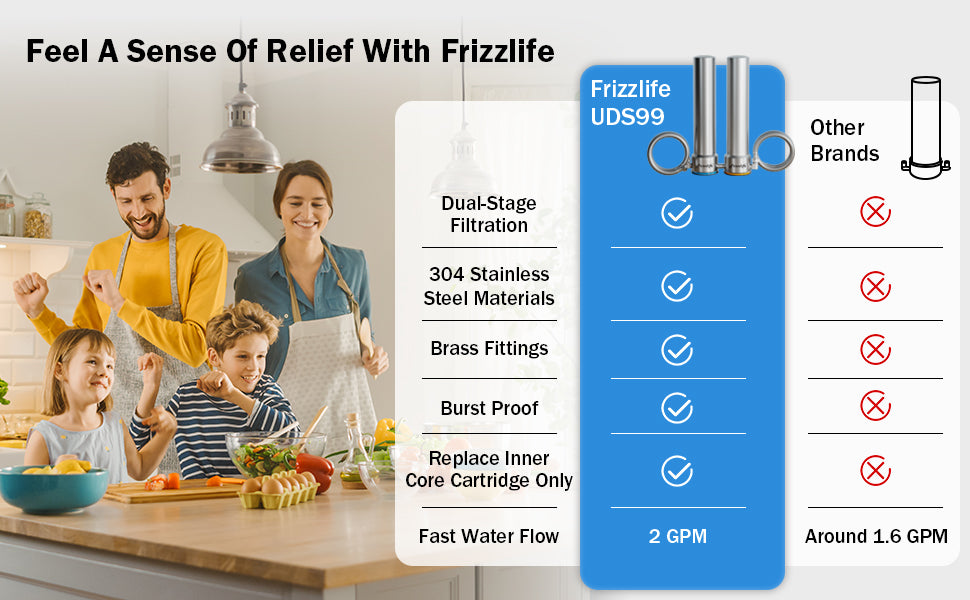 Q: Why TDS does not drop after filtration?
A: TDS is not a professional way to test the water quality. TDS means total dissolved solids, for example if you put a very little salt(NaCl) into the water and test the TDS, and you will find the result is dramatically high. Same thing, if your water is full of minerals, the TDS is very high too. The UDS99 system doesn't remove any of the minerals from water, but only stops harmful contaminants like heavy metals (Lead, Mercury, Cadmium) and over 90% of VOCs and Cysts, and it removes greatly the chlorine (99%) from water. Therefore, it is the reason why TDS you get is not that low as you expect.
Q: What should I do if water leaks after installation?
A: If once installed the system should leak, please shut off water supply firstly. If the leaking occurs at the thread, please wrap plumber tape on the external thread. Please contact Frizzlife customer service team for solutions if the water leakage persists.
Q: When should I replace the filter cartridge?
A: It is recommended to replace 1st stage DSF01 filter every 6-8 months, and replace 2nd stage DSF02 filter every 8-12 months. Please note all the service life of filter cartridge listed are based on actual laboratory test and the provided water. The actual service life of filter cartridge depends on feed water quality and daily water usage.
| | |
| --- | --- |
| Model No. | UDS99 |
| Replacement Filter | DSF01, DSF02 |
| Dimension (L*W*H) | 7.28 *2.76*12.8 inch / 18.5*7*32.5cm |
| Flow Rate | 2 GPM @ 60psi |
| Operational Temperature | 39ºF-100ºF / 4°C-38°C |
| Working Pressure | 15 psi - 125 psi |
| Applicable Water Source | Municipal Tap Water |