Frizzlife 400 GPD Tankless Reverse Osmosis Water System, PD400
---
---
Frizzlife 400 GPD Tankless Reverse Osmosis Water System, PD400 is backordered and will ship as soon as it is back in stock.
Shipping Charges:

USA, Canada, UK, France & Germany

Free shipping for order over $25.

$5 for order less than $25.

Other European countries & other countries

Contact us by email to get the shipping details and invoice.

Bulk order

For bulk order over $1000, the shipping charge depends on some factors (i.e., countries, products weight), please email us for more details.

Shipping Time:

USA, Canada, UK, France, Germany

It will take 3-7 Business Days by UPS, USPS, DHL, FedEx or similar courier.

Note: Delivery time does not include weekends, national or international holidays, or handling times.
Payment methods
Your payment information is processed securely. We do not store credit card details nor have access to your credit card information.
[TOP TIER FILTRATION PERFORMANCE] Adopting composite pre-filter and RO membrane with highest filtration precision at 0.0001 micron, PD400 under sink reverse osmosis water filtration system induces a deep 5-stage filtration mechanism that can eliminate more than 1000+ kinds of harmful contaminants (99.99%) from water including LEAD, CHLORINE, FLUORIDE, Heavy metals, Chloramine, VOCs, TDS, Limescale, Arsenic and Asbestos and more. A TDS meter is also included in the package. You know your water!
[INNOVATIVE TANKLESS DESIGN] Different from conventional reverse osmosis systems, Frizzlife PD400 under sink RO filter has an impact design without a bulky tank. It saves up to 70% of space and perfectly fits most standard US cabinets. No more secondary pollution shall be worried due to unventilated tank! Additionally, the integrated water cycle board guarantees the RO water filter from water leakage.
[LOW DRAIN RATIO & ULTRA LONG SERVICE LIFE] The RO water filtration system has a low drain ratio at 1.5:1(pure: drain), saving up to 450% of water when compared to conventional ones(1:3). With a high capacity of 400 gallons per day, the tankless RO water filter system produces instant fresh pure water to the provided lead-free faucet, filling a cup of water within 12 sec. Two huge filter cartridges loaded, the service life of the system is ultra-long, costing only $0.2 per day!
[DIY INSTALLATION & REPLACEMENT] Compatible with most standard US kitchens(1/2"& 3/8"). Comes with a manual, a quick guide, and a step-by-step instructional video, the integrated purification system is an easy to install. Everything needed is included, no plumber required! The replacement takes only 2 sec with a TWIST-IN cartridge design. A smart filter life indicator is embedded, which will beep to remind you when it's time to change! Search ASR211 &ASR212-400 for replacement filters.
[MULTI-USAGE] The system can serve both your sink and refrigerator at the same time by using Frizzlife Ice Maker Kit (IMC-1). To solve the common problem of unstable water pressure when connected to refrigerators, Frizzlife will launch a mini tank that is typically designed for tankless RO systems. The mini tank also addresses the initial lag of the water outflow of the water filter systems.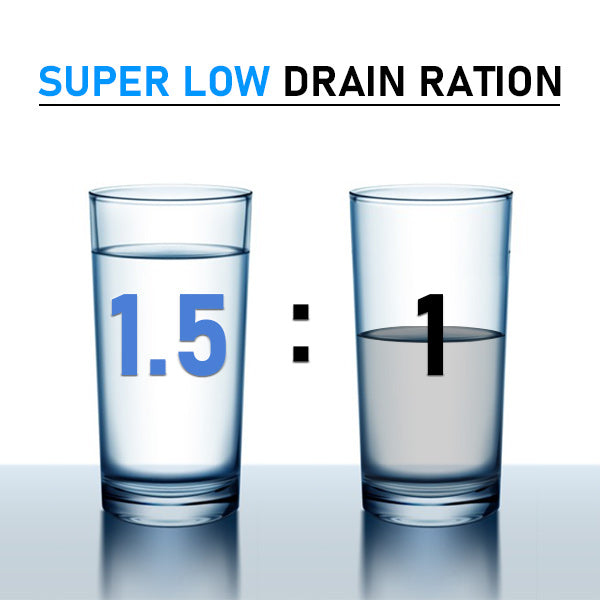 1.5:1 Low Drain Ratio
The advanced water filtration technology of tankless Frizzlife PD400 purification system saves up to 450% of water when compared to other brands on the market. Generating 1.5 cup of purified RO water will only produce 1 cup of waste water.
✔ Make water bills more affordable
✔ Water saving
Tankless ingenious Design
Unlike conventional reverse osmosis systems, Frizzlife PD400 undercounter purifier is designed as an integrated unit without bulky pressure tank. It also eliminates secondary pollution due to unventilated tank for your drinking water.
✔ More storage space
✔ Avoid secondary pollution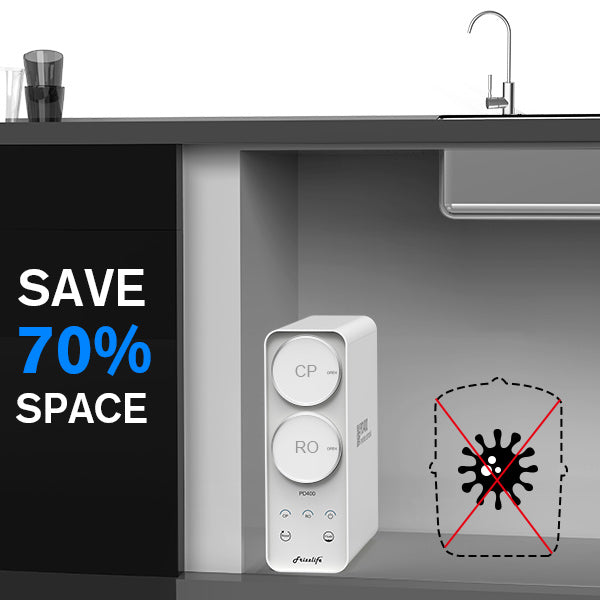 Convenient Installation & Replacement
With the help of step-to-step instructional manual and tutorial video, you can completely install the PD400 water purification system in few minutes by yourself.The filter can be easily replace with ONE SINGLE TURN.
✔ DIY installation
✔ Twist-in design
Fast and Stable Fresh Water
The internal pump assures fast and stable water flow after filtration to the provided lead-free premium faucet, filling a cup of 330ml water in 12 seconds.The filtration system is able to run 400 gallons of water per day, meeting water needs of most households and small companies.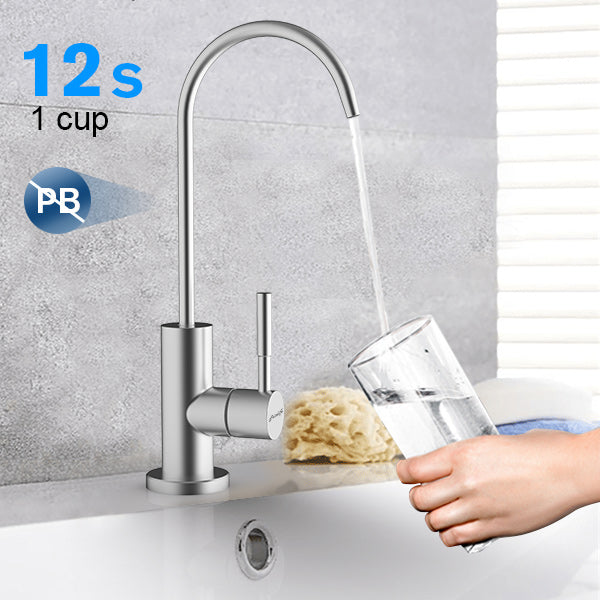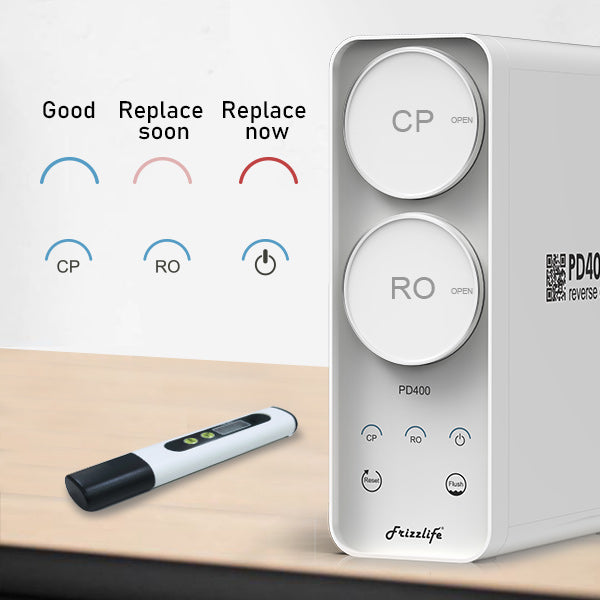 Filter Life Monitor&TDS meter
The color-coded indicators will re mind you to change the filter cartridges in advance. A 3rd party TDS pen is also included in the package. Please allow the water run for a while before reading to get most accurate result! Everything is clear and under control, you know your water!
Multi-usage
The quality of purified water from Frizzlife PD400 RO filtration system even surpasses the quality of bottled water that is perfect for cooking, coffee & tea making, and other daily usage. It can simultaneously serve both your sink and refrigerator by using an ice maker kit. A mini tank is available now to solve pressure correlated issues.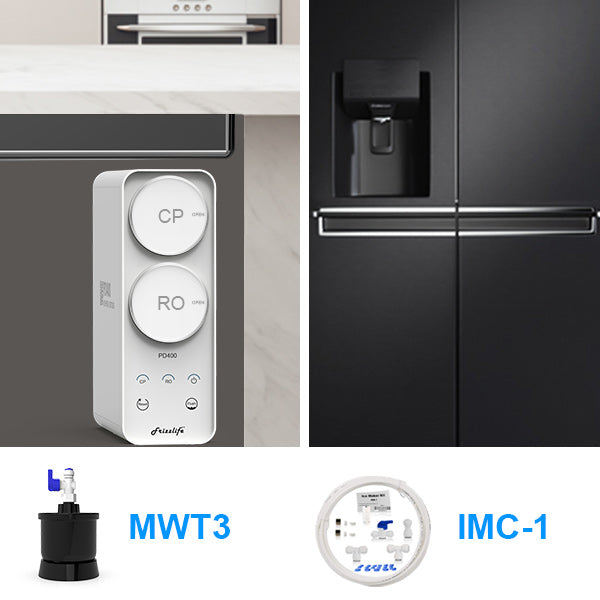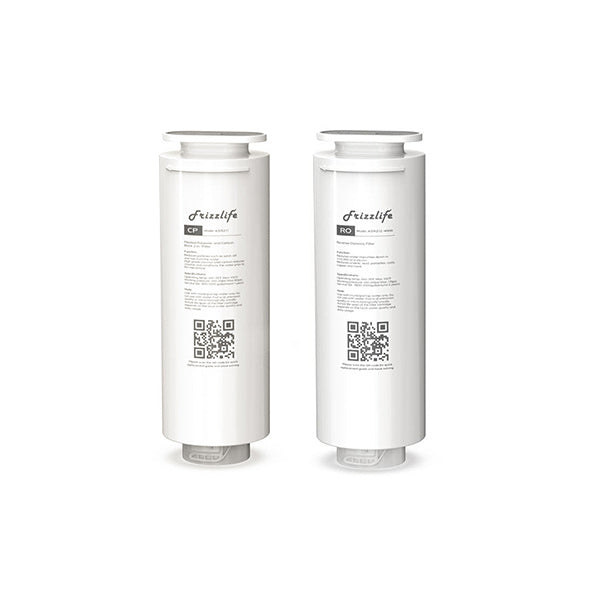 Replacement Filters/Pack
1. Replace the 1st stage per 12 months: ASR211
2. Replace the 2nd stage per 2 years: ASR212-400G
Q: What is the material used for the faucet? Do you have a black faucet available to match with my sink?
A: Hi, thanks for enquiring with us. The faucet that comes with the RO unit is made of stainless steel with a brushed nickel finish. If you want a black faucet, we have matt black faucet available.
Q: Can the system be hooked up to the refrigerator?
A: Hi dear customer, Thank you for inquiring with us! Yes, the unit can be hooked up to your refrigerator/ice-maker by using the Frizzlife IMC-1 kit. Please kindly note, if the distance between the filter and the appliance exceeded 15 ft, you might need a mini tank to boost up the water pressure. The mini tank will be available soon!
Q: What are the dimensions of the box that goes under the counter? In a motorhome, every inch counts.
A: Hi dear customer, thanks for enquiring with us. The dimension of the PD400 machine are: 15.5(length)*5.3(width)*14.7(height) inch.
If you have any further questions, please feel free to contact us.
Q: Why is it that the tap water feeding tube uses a 3/8" instead of 1/4" tube-like reverse osmosis?
A: Hi dear customer, thanks for inquiring with us. Yes, this RO system uses 3/8" PE tubing as a feeding tube to ensure the water pressure for the system.
Model No.
PD400
Filter Cartridge Inside
ASR211 &ASR212-400
Product Dimensions
19.6 x 19.4 x 8.1 inches
Item Weight
23.6 pounds
Operating Temperature
Min.39ºF,Max 100ºF
Operating Pressure
Min.20psi Max. 80psi
Flow Rate
0.27 gallons/m
@25 C(77 F)
Usage Environment
Indoor use only