Frizzlife 3-Stage Under Sink Water Filter System SK99-NEW, Direct Connect
---
---
Frizzlife 3-Stage Under Sink Water Filter System SK99-NEW, Direct Connect is backordered and will ship as soon as it is back in stock.
Shipping Charges:

USA, Canada, UK, France & Germany

Free shipping for order over $25.

$5 for order less than $25.

Other European countries & other countries

Contact us by email to get the shipping details and invoice.

Bulk order

For bulk order over $1000, the shipping charge depends on some factors (i.e., countries, products weight), please email us for more details.

Shipping Time:

USA, Canada, UK, France, Germany

It will take 3-7 Business Days by UPS, USPS, DHL, FedEx or similar courier.

Note: Delivery time does not include weekends, national or international holidays, or handling times.
Payment methods
Your payment information is processed securely. We do not store credit card details nor have access to your credit card information.
【FULLY CERTIFIED SYSTEM】 rigorously tested and certified by IAMPO against NSF/AISI 42&53 for Material Safety, Structure Integrity, Flow rate, and Filtration Effectiveness.
【PREMIUM FILTRATION PERFORMANCE】 Adopting 0.5 μm purification accuracy, the SK99 under counter water filter can effectively remove over 99% of contaminants such as dust, SEDIMENTS, LEAD, CHLORINE, CHLORAMINE, FLUORIDE, HEAVY METALS, and VOCs, etc. from tap water whilst leaving in all the beneficial minerals.
【FAST WATER FLOW & EASY INSTALLATION】Tested flow rate>2.0GPM @60 psi. The installation of the water filter takes less than 15 minutes following comprehensive video instruction. The SK99 under sink filter system can also hook up to the refrigerator by using our ice maker kit IMC-2.
【MONEY SAVER & ECO-FRIENDLY】When replacing the filters, You only need to change the core filters inside. Less plastic and cheaper! Search replacement filters: M3001, M3002, M3003.
【SUPERIOR DESIGN WITH 24/7 USA TECH SUPPORT】 The complete system of NEW SK99 has been upgraded, featured with stronger cases, bottom caps, integrated water board, etc. The compact design of the system can perfectly fit your cabinet under the sink.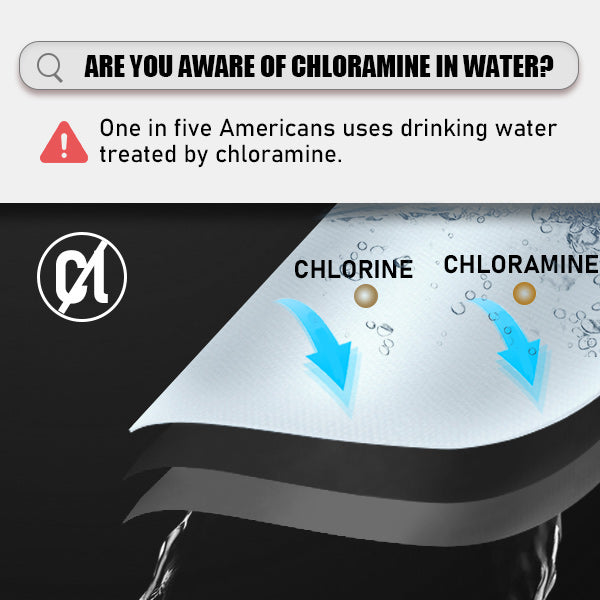 Specialized in Chloramine Removal
It is hard to get rid of chloramine which is commonly used in the disinfection of municipal water. SK99 integrated high-tech compound activated carbon block that is typically designed to wipe out both the chlorine and chloramine from water.
Fast & Stable Water Flow
The SK99 under sink water filter system can be directly connected to your main faucet. The water outflow of the purifier can reach 2.0 GPM @ 60psi, filling a cup of 11oz water within 3 secs. Enjoy instant fresh bottled water from your tap!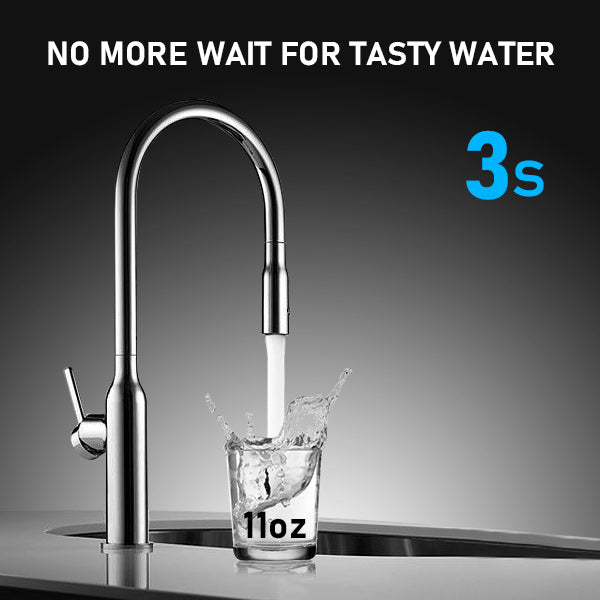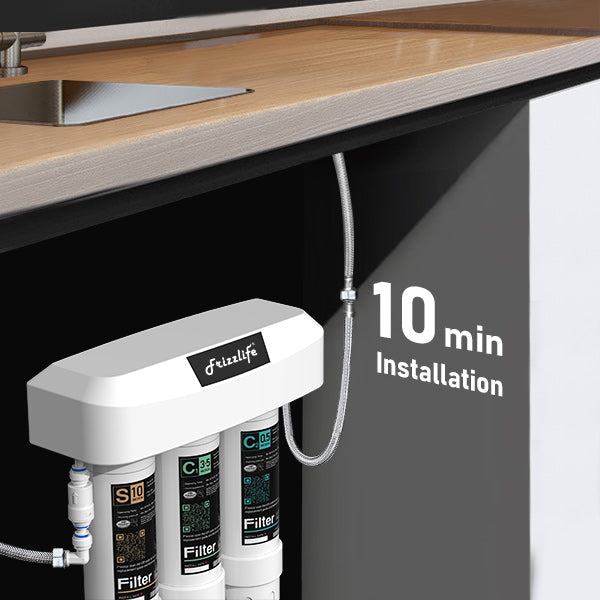 Super Fast Installation
The direct-connect version is super easy to be installed. Everything needed is included in the package. Install it yourself within 10 min following instructional video on YouTube. With the TWIST-IN method, the filters can be easily changed in 3 secs.
Cost-effective & environmental protective
The innovative replacement idea requires you to change only the inner core of the filter instead of disposing of the entire outer case. It saves even more plastics than plastic bottles and makes the filters more affordable.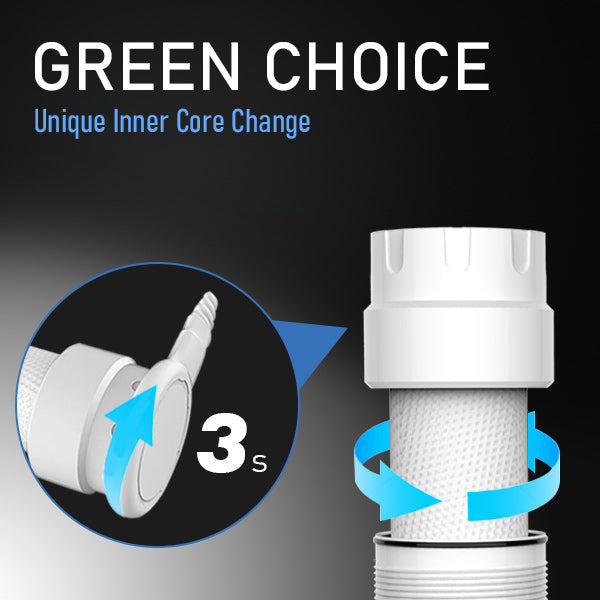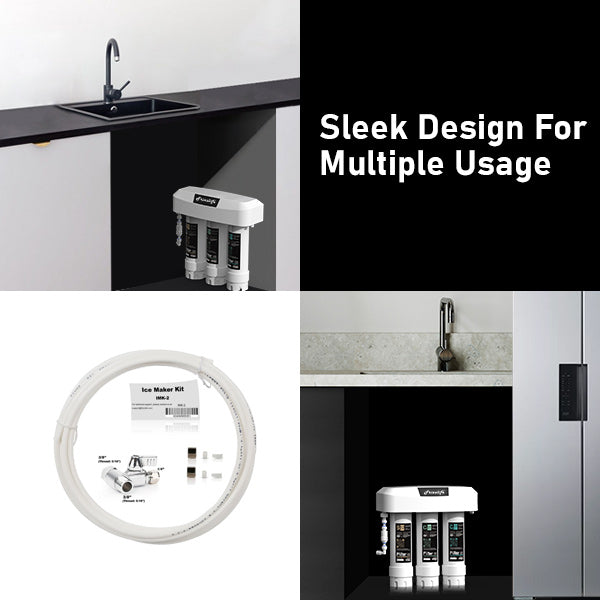 Compact Size & Multiple usages
The skinny water purifier can either be hooked up under your sink or stand alone against the wall, occupying less space. Using the IMC-2 ice-maker connection fit of Frizzlife, it can serve both your sink and refrigerator water usage.
Entirely Upgraded New Version
Based on quantitative and qualitative research of the Frizzlife market department, the SK99 water filter system is evolved into its 2nd new version. Quality assured and no more concerns on leakage or break of the system!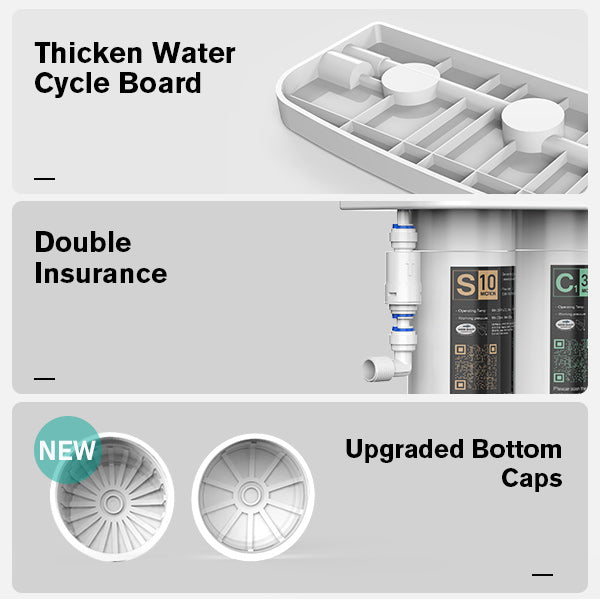 Q: How does the SK99 water filter affect TDS/PPM in water?
A: TDS is not a professional way to test the water quality, TDS means total dissolved solids. For example, if you put very little salt(NaCl) into the water and test the TDS, you will find the result is dramatically high. The same thing, if your water is full of minerals, the TDS is very high too.
The SK99 doesn't remove any of the minerals from water, it only stops heavy metals such as Lead, Mercury, Cadmium, and over 70-80 VOCs, and it removes greatly the chlorine from water. Therefore, it is the reason why the TDS you get is not that lower as you expect.
TDS meter testing method is widely used in reverse osmosis systems since the RO filter system also removes minerals from water. If a RO membrane doesn't have a good performance, the TDS will be relatively high. And if TDS is getting much higher, means it's time to change the RO membrane.
So please do not use TDS to test any water except Reverse Osmosis System, because the result is meaningless.
Q: How often should the filter cartridges of SK99 be replaced?
A: About the service life of the filter cartridge for SK99, we would like to recommend you to change the 1st stage every 3-6 months, change the 2nd stage every 8-12 months and change the 3rd stage every 12-18 months. Please notice the service life depends on your water quality and daily usage. All the specification data of the flow capacity that is listed on the sticker is based on actual tests from the laboratory and its provided water.
Q: Why water filter can not be used on well water?
A: This filter should be used in conjunction with municipally treated drinking water or water that has been properly disinfected before use. The water filter cartridge is manufactured with 0.5micron carbon (top rate) that will get easily clogged up by any type of dirt or settlement from a well.
Q: How can I connect the SK99 filter system to the refrigerator/ice maker?
A: If you would like your refrigerator or ice maker to have clean and safe water from the Frizzlife filter system, we also have an IMC-2 icemaker kit available on our online store.
If you have any further questions, please feel free to contact us at support@frizzlife.com
| | | | |
| --- | --- | --- | --- |
| Model No. | SK99 NEW | Filter Cartridge Inside | M3001, M3002, M3003 |
| Product Dimensions | 14.5 x 4.7 x 14.1 inches | Item Weight | 23.1 lb |
| Operating Temperature | Min.39ºF,Max 100ºF | Operating Pressure | 20psi Max. 80psi |
| Flow Rate | 2 GPM @ 60 psi | Usage Environment | Indoor use only |