Frizzlife TAM3 Alkaline Remineralization Under Sink Water Filter - 1/4" Quick Connect Post Filter for RO Reverse Osmosis Filter System
---
---
Frizzlife TAM3 Alkaline Remineralization Under Sink Water Filter - 1/4" Quick Connect Post Filter for RO Reverse Osmosis Filter System is backordered and will ship as soon as it is back in stock.
Shipping Charges:

USA, Canada, UK, France & Germany

Free shipping for order over $25.

$5 for order less than $25.

Other European countries & other countries

Contact us by email to get the shipping details and invoice.

Bulk order

For bulk order over $1000, the shipping charge depends on some factors (i.e., countries, products weight), please email us for more details.

Shipping Time:

USA, Canada, UK, France, Germany

It will take 3-7 Business Days by UPS, USPS, DHL, FedEx or similar courier.

Note: Delivery time does not include weekends, national or international holidays, or handling times.
Payment methods
Your payment information is processed securely. We do not store credit card details nor have access to your credit card information.
3-in-1 Compounded Filtration: Combines Alkaline Particles, Minerals Substances, and Carbon Block in one filter set to alleviate inherited side-effect of conventional reverse osmosis membrane. -- Standard RO system removes not only harmful contaminants but also essential minerals from the water and makes it a bit acidic.
Balance pH+ Level: Your body tightly regulates the pH value at around 7.4 to maintain overall health whilst the water after RO filtration is slightly acidic. The alkaline layer of TAM3 increases the pH+ value of RO water to over 7.5, which is beneficial to your long-term health.
Restore Essential Minerals & Polish favor: The minerals layer of the filter adds ionically activated elements back into RO water, ensuring your daily minerals intake. Please note the minerals may contribute to a HIGHER value of TDS but the treated water is much healthier than pure water with low TDS. Also the carbon block adjusts taste, removes odors and other remaining pollutants of RO water as a final stage.
1/4" Universal Compatibility For RO Systems: TAM3 Filter is not designed to be utilized as an independent water filter but is highly recommended to treat with pure water from RO system. Comes with 1/4" quick connect tubing, which is compatible with most reverse osmosis systems on the market.
Easy Install & Quick Change & Prolonged Service Life: Can be easily installed by yourself in a few minutes. No plumbing or extra tools required. Thanks to auto shut-off design, you don't even need to cut off the water supply when changing the filter. The twist-in design makes the filter replacement a snap. Each filter cartridge can produce 900-1000 gal of mineralized & alkalized water, approximately equals to 1 year usage, 2x longer than the average on market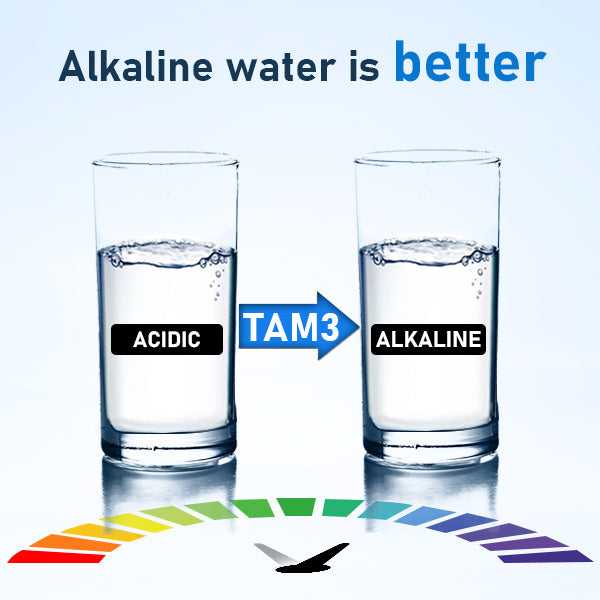 Balance PH Level
Human body tightly regulates the overall pH+ level with limited fluctuation from 7.35-7.45.
The alkaline system moderates acidity of purified water from RO purification system into a slightly alkaline (7.5) level to better fit your body.
Restore Essential Minerals
Standard reverse osmosis units removes helpful mineral togther with contaminants. TAM3 restores key minerals.
Address side-effect of RO system
Ensure daily mineral intake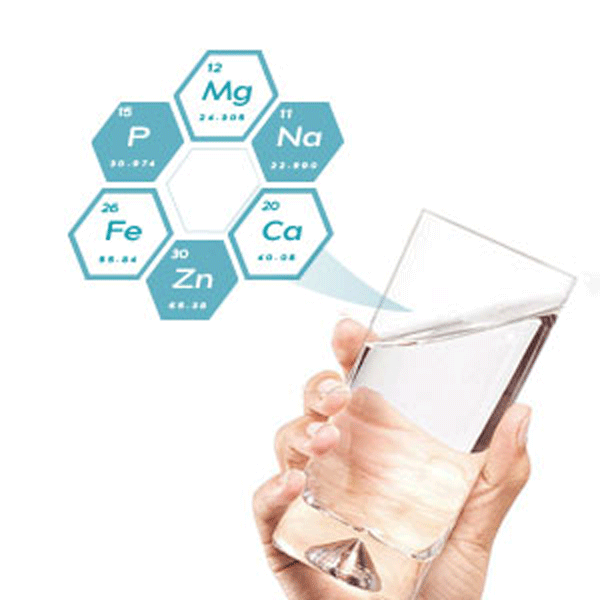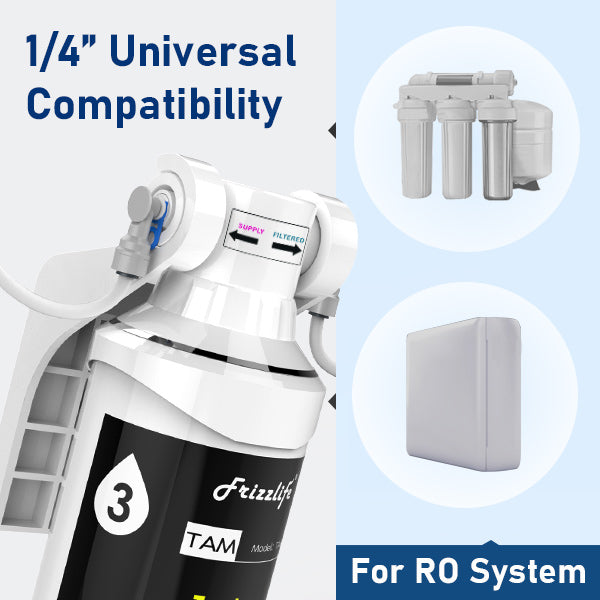 Great Compatibility For RO Systems
The system comes with 1/4'' plastic tubing, which is compatible with most of RO under counter filtration systems.
lease kindly note that TAM3 filter should be used as post filer after RO systems.
1/4" quick connect
Universal compatible for RO units
Auto Shut-off Design
Thanks to auto-shut-off design, the cartridge replacement is rather easy without cutting off water supply.
Forget the guess work.
✔Twit to change
✔3 seconds replacement
✔DIY Installation
Money Saving Choice
The filter housing is reusable. When replacing the filter, you only needs tothrow away the inside filter cartridge instead of discarding the entire plastic part.
✔Money saving
✔Change inside cartridge ONLY
Remove Odor & Polish Favor
As a double checker, the carbon block further removes remaining pollutants and odor, and also polish the favor.
The final water running out from dispenser is now your best choice for coffee and tea brewing.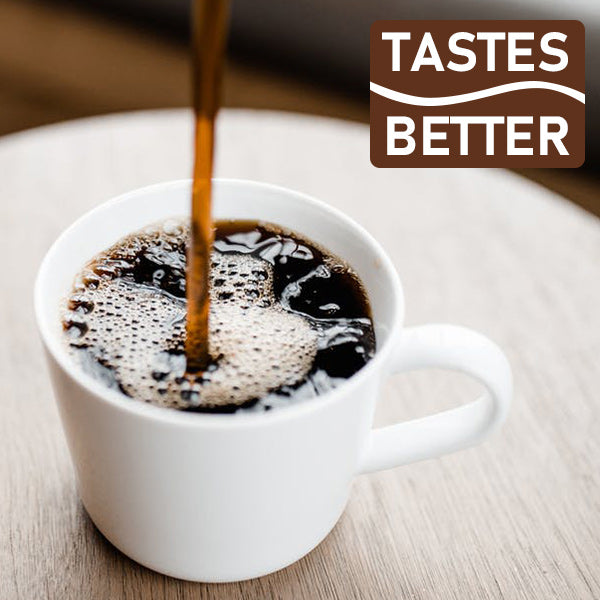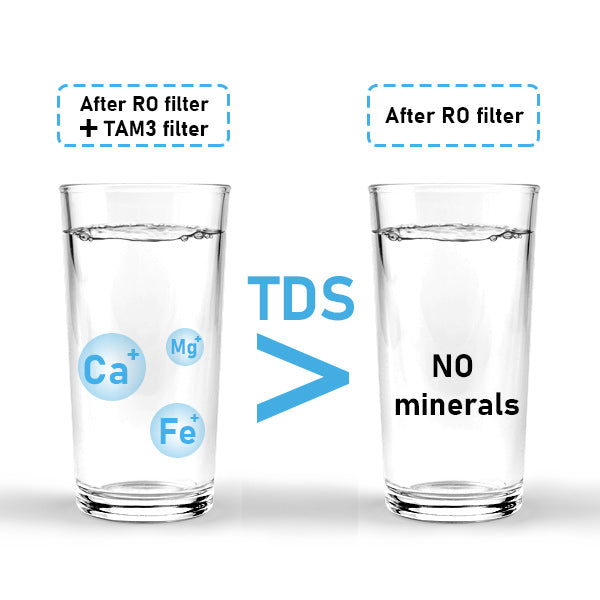 More Essential Minerals = Higher TDS Value
But now TAM3 under sink post filtration adds these minerals back to your drinking water.
Therefore, TDS results may be slighly higher than the results of filtered water directly from RO membrane.
| | | | |
| --- | --- | --- | --- |
| Model No. | TAM3 | Filter Cartridge Inside | FZ-4 |
| Product Dimensions | 5 x 5 x 13.5 inches | Item Weight | 4.2 lb |
| Operating Temperature | Min.39ºF,Max 100ºF | Operating Pressure | 20psi Max. 80psi |
| Flow Rate | 2 GPM @ 60 psi | Usage Environment | Indoor use only |