Frizzlife TD-3 Post Carbon Water Filter - Under Sink Activated Carbon Block Post Filter for RO Filter Systems
---
---
Frizzlife TD-3 Post Carbon Water Filter - Under Sink Activated Carbon Block Post Filter for RO Filter Systems is backordered and will ship as soon as it is back in stock.
Shipping Charges:

USA, Canada, UK, France & Germany

Free shipping for order over $25.

$5 for order less than $25.

Other European countries & other countries

Contact us by email to get the shipping details and invoice.

Bulk order

For bulk order over $1000, the shipping charge depends on some factors (i.e., countries, products weight), please email us for more details.

Shipping Time:

USA, Canada, UK, France, Germany

It will take 3-7 Business Days by UPS, USPS, DHL, FedEx or similar courier.

Note: Delivery time does not include weekends, national or international holidays, or handling times.
Payment methods
Your payment information is processed securely. We do not store credit card details nor have access to your credit card information.
Premium Activated Carbon Block: TD-3 under sink post-carbon water filter compresses the top-grade activated coconut carbon into a highly concentrated carbon block. The carbon block can effectively remove more water contaminants including Chlorine, Sediments, Volatile Organic Chemicals, bad taste, and odors.
Versatile function: The activated carbon of the inline water filter can further polish the water taste, removes odors and other remaining pollutants such as chlorine, dust, and sediments from RO water. Perfect choice to improve water taste with RO water as post filtration. With compact size, the Frizzlife TD-3 post inline water filter can also be independently apply to municipal water under your sink, serving your sink, or/and refrigerator with better tasting and cleaner water.
Super Easy Installation:

Compatible with both inline 1/4" and 3/8" water tubing. The installation of the post-carbon water filter takes no more than 1 min. Simply install the provided push-and-connect fittings onto the water filter; shut off the water supply and cut the outlet tubing of your existing RO unit; insert the post-carbon water filter into the cut lines; and seal the connections with provided blue clips. Please flush the carbon water filter for 5 min before first use.

Tiny and 1 Sec Replacement: The mini carbon filter is tiny but effective, compatible with most standard US under-sink, and reverse osmosis water filtration systems on the market. Size at 2.8" *2.8" *7.7". The service life of the system could last for 8-12 months. It is also super easy to change the filter as well by a single twist without any tools.
100% Safe Water Filter: The post water filter housing is made of 100% safe material which is 100% BPA-free, fully recyclable, and reaches food grade. You could be assured to use the water filter without any safety concerns.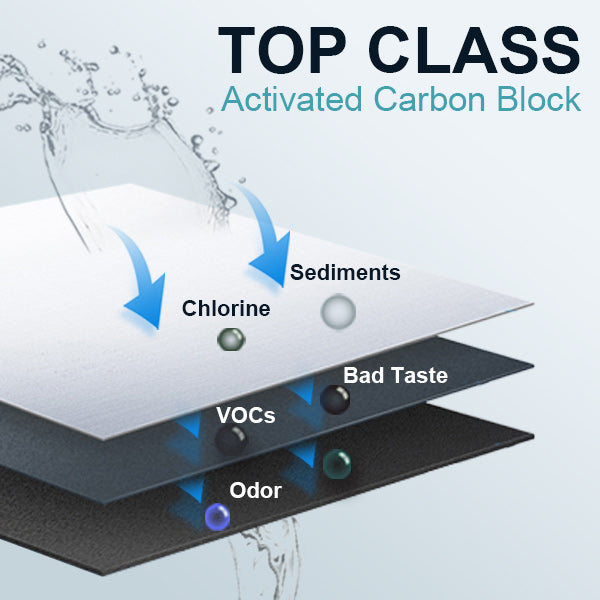 Improve the water taste of your RO water effectively
Removes further impurities in the water such as VOCs, chlorine, sediments.
Further polish the water taste and remove odors of water.
Premium Activated Carbon Block
Made by premium activated coconut shell carbon, the under sink inline post carbon block water filter uses extruded carbon block with only 3 micron pore-size.
It can effectively remove more than 99% of harmful impurities in water.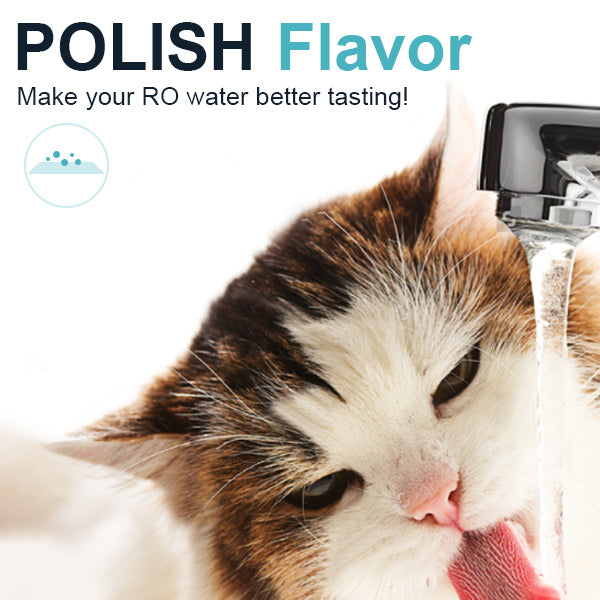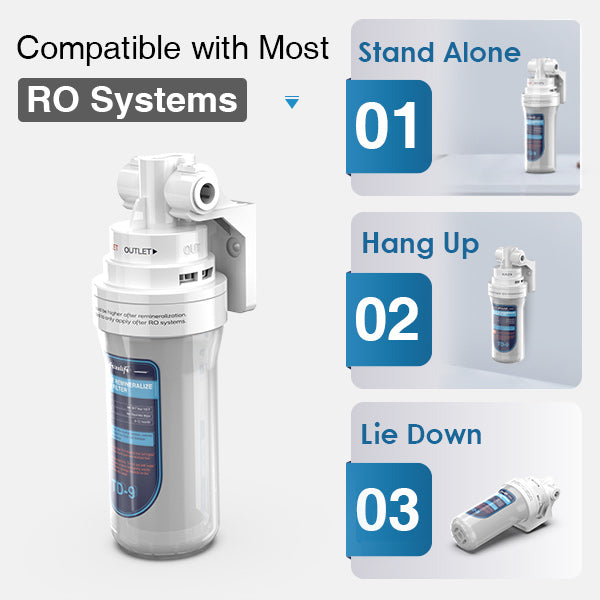 Remove Odor & Polish Favor of RO Water
As a double checker, the carbon block further removes remaining pollutants, further polishes the flavor and improves water taste of your water.
The final water running out from dispenser is now your best choice for coffee and tea brewing. 
Compatible with Most RO Systems
The inline post carbon filter is compatible with most of the reverse osmosis systems on the market. If your outlet tubing is 3/8", please remove the elbow fitting of TD-3.
Size at 2.8" *2.8" *7.7", TD-9 takes up little place and can be settled freely, either stand alone or Lie down.
Please kindly note that TD-3 is recommended to use as a post filer after RO systems.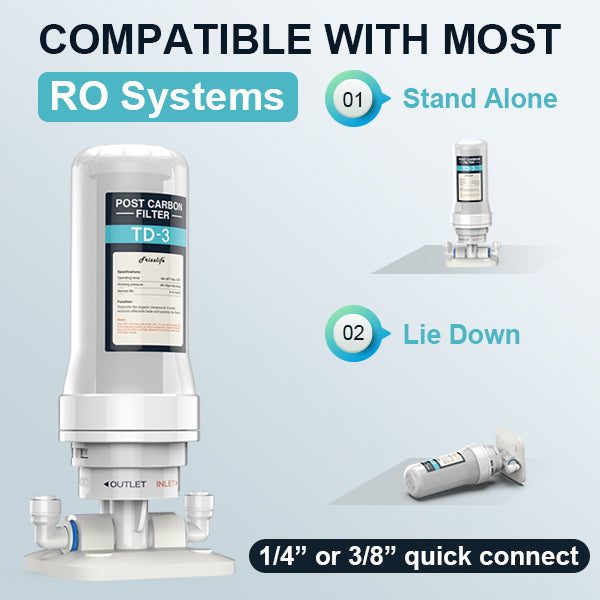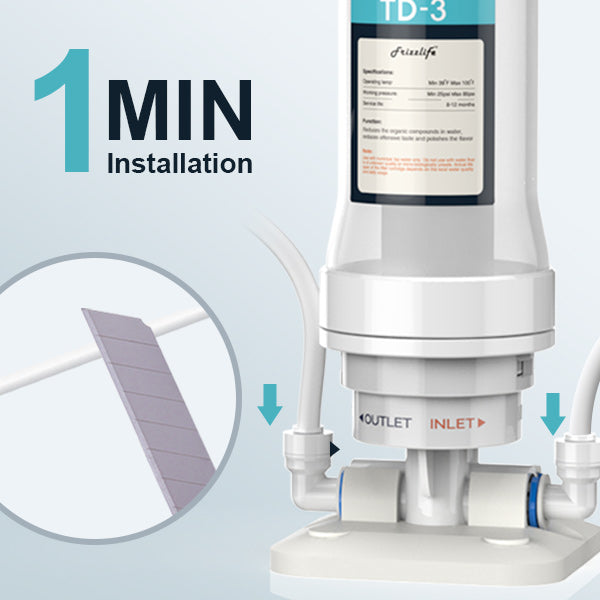 1 Min Installation
The installation is super easy within 1 min even for elders. Simply cut off the outlet tubing of your RO system, insert the post filter. And all done! Start your purified journey with better-tasting water!
1 Sec Change
The replacement can be done in 1 sec with a single twist. No extra tool needed. Each filter could last for 8-12 months to continuously serve you with crispy and good taste water.
Search"Frizzlife TD-3 Replacement Filter" to purchase.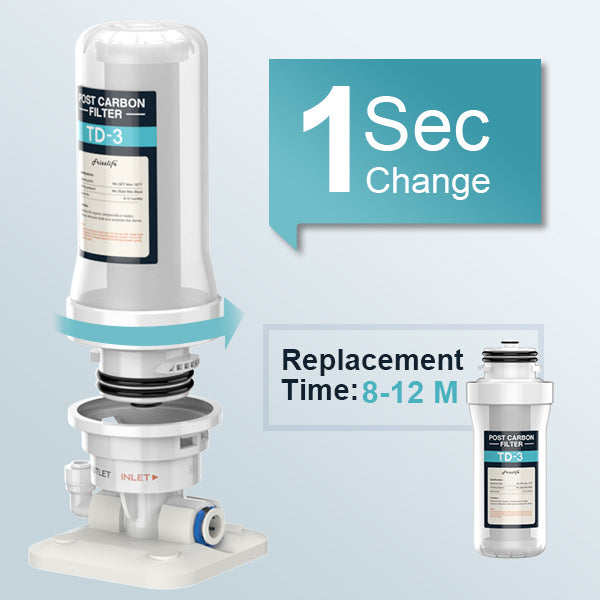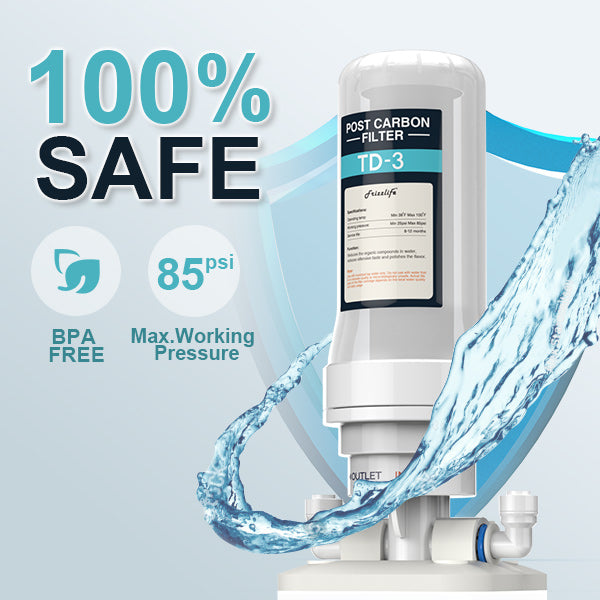 100% Safe Water Filter
The housing of the water filter is made of 100% BPA-free material, which could resist 85 psi as daily pressure. The full water filter does no harm to your health and acts as an add on to your RO water filtration system