Dec 2 2021 | Author: Lisa Walker of neighborhoodsprout.org
Being eco-friendly can actually save you money in the long run, but when you're moving, it can be difficult to find a rental home that gives you the ability to conduct such practices. When you're weighing the pros and cons of potential rentals, consider how eco-friendly you'll be able to be.
1. Your Commutes
Because personal transportation is such a major source of pollution, it's important to consider how much you'll be using your car day-to-day. Ideally, your new rental should be in close proximity to work. It's even better if your route doesn't include hilly areas or a lot of stop-and-go traffic, as these conditions ruin your fuel economy. Commutes don't just involve work-related travels, either. Don't forget to check your neighborhood's proximity to grocery stores or any other market you may need consistent access to.
Whenever possible, use public transportation. If your commute is over twenty miles for a round trip, taking the bus or subway can help decrease your emissions substantially and even save you money.
2. Your Rental's Additions
Choosing a rental that already has eco-friendly practices in place is an excellent start. First, check the building for solar panels. Solar energy is a great source of clean, renewable energy that can serve as backup power during outages and save money by working around spikes in electricity rates. This is particularly lucrative for tenants who have to pay their own electricity bills.
On the inside, see if your rental property is equipped with Energy Star appliances. These products are recognized by the EPA for their innovative, energy-saving technology.
3. Possible Improvements 
Most rental properties don't allow you to change things too drastically, but you can do some minor things to make your space more eco-friendly. Water is one of the more expensive resources to deal with, particularly when it comes to water heaters. If you can, try installing a low-flow showerhead. This appliance cuts down on energy use by using fewer gallons of water. This means your water heater isn't being overworked, reducing both your electric bill and your carbon dioxide emissions.
You could even install an eco-friendly water filtration system to reduce plastic waste and eliminate the need for reusing old water bottles. On top of providing clean, purified water, some Frizzlife reverse osmosis water filtration systems can even adjust the drain rate, saving up to 450% of your water.
Installing LED light bulbs is also a great way to save electricity. Research shows that these are far more efficient than incandescent lighting because they use at least 75% less energy. Swap out your old lightbulbs for LEDs to significantly decrease your energy use and enjoy those major savings.
Whenever possible, minimize your need for heat or AC by ensuring your rental has shades or blinds that can efficiently block sunlight and trap cool air during the hotter season. Caulking air leaks can help maintain a consistent temperature as well.
4. Moving Companies
When you're ready to move, consider connecting with a local moving company that emphasizes eco-friendly behaviors such as waste reduction and fuel-efficient travel. Make sure you choose a professional, legitimate team that's qualified to move large furniture. Take the time to read customer reviews on Angi.com, investigate any potential deal, and get in touch with customer service to discuss your needs and request a proper quote.
You can take your eco-friendly behaviors with you anywhere. When you're ready to move, just make sure you find a rental that allows you to exhibit those behaviors to the fullest potential.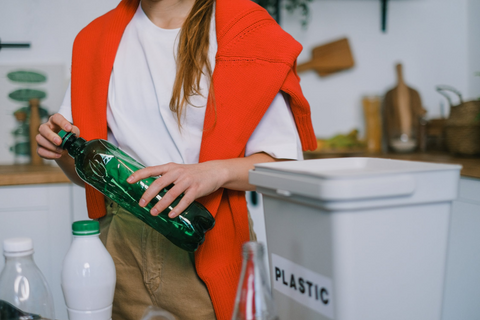 Image via Pexels